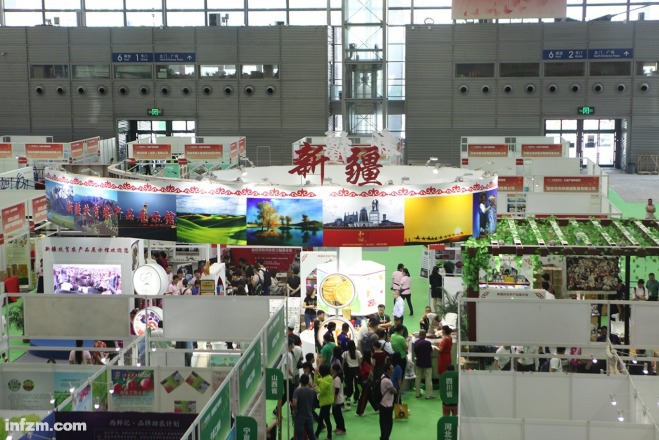 Exhibition Hall for Poverty Alleviation Products (photograph of the CCF working group)
This national, comprehensive and international annual charity event, which is attended by the government and social forces, is working hard to make itself the largest platform for mobilizing social forces to participate more in targeted poverty alleviation.
On September 20, 2018, the Sixth CCF was held in Shenzhen and closed on the 22nd. With the theme of "Focus on Targeted Poverty Alleviation and Create a Better Life", the CCF raised "poverty alleviation" to a more important position. The Fair announced that until 2020, the next two CCFs will continue to focus on "targeted poverty alleviation".
Born out of the Charity Project Exchange Fair held by non-governmental and non-profit organizations in Shenzhen in 2011, the China Charity Fair (hereinafter referred to as the CCF) has been held for five times. Prior to this, "poverty alleviation" has been the theme of the Fair for two consecutive years and has become an important part of it. This national, comprehensive and international annual charity event, which is attended by the government and social forces, is working hard to make itself the largest platform for mobilizing social forces to participate more in targeted poverty alleviation.
Government-led, social participation, joint collaboration, and joint advancement are the driving paths for poverty alleviation, "Under the government's leadership, how to develop the industry, how to meet the special needs of the poor areas, and how to solve the problems can provide a broad stage for the participation of social forces." Ling Chong, News Spokesman of CCF, Member of the Party Committee of Shenzhen Civil Affairs Bureau and Director of Shenzhen Social Organization Administration, told the reporter of Southern Weekly that poverty alleviation can best reflect the new pattern of social governance of co-construction, sharing and co-governance.
Enterprises are actively participating in the strategy
During the exhibition, the No. 1 Exhibition Hall of the Shenzhen Convention and Exhibition Center was always crowded. More than ten exhibition areas were set up in the 30,000 square meters venue, covering various aspects such as science, technology and ecological poverty alleviation, industrial poverty alleviation, education poverty alleviation, project promotion in deep poverty areas and so on.
The active participation of major companies in poverty alleviation projects was a prominent feature of the Fair. Previously, 2,147 institutions and projects applied for participation, including many Chinese and foreign companies such as CGN, COSCO, Ping An, Evergrande, Dongfeng Motor, Vanke, Huaqiang, Tencent, Country Garden, Geely, China Life, Baison and so on. Ling Chong said that in order to focus on the theme of "targeted poverty alleviation", this fair was stricter in screening exhibitors than in previous years, where exhibitors and projects were required to be directly related to poverty alleviation.
The exhibition area of the project results of "10 Thousand Enterprises Help 10 Thousand Villages" not only introduced the cases of the cooperation between private enterprises and poverty-stricken areas in recent years, but also introduced the statistics of private entrepreneurs driving enterprises to contribute to speeding up rural poverty alleviation. The staff of China Guangcai Program Foundation introduced the Southern Weekly reporter that by the end of 2017, the Foundation had received more than 2 billion donations from enterprises and individuals and implemented more than 60 public welfare projects. According to statistics, only a single poverty alleviation project of "10 Thousand Enterprises Help 10 Thousand Villages" realized 46,200 enterprises to help 51,200 villages by the end of 2017.
In addition to direct participation, companies will participate in the operation of public welfare projects through donations, support, cooperation with professional organizations and so on. According to Wu Jiacong, a staff member of Youcheng China Social Entrepreneur Foundation, the Foundation has been using funds raised from companies, institutions and individuals to establish cooperation with enterprises and schools to train teachers in rural areas. The project, called as "Green Pepper", has covered more than 4,400 schools and more than 34,000 rural teachers in the first year of testing.
"Poverty alleviation especially requires political and social cooperation"
In the field of targeted poverty alleviation, this CCF proposed that social organizations should have the professionalism to participate in poverty alleviation and the ability to discover and solve problems. During the CCF, apart from the theme summit, five sub-disciplinary seminars on issues such as financial poverty alleviation, science and technology poverty alleviation, social organization and social innovation to help poverty alleviation and so on were held, attracting more than 100 domestic and foreign guests to exchange and share useful experience in targeted poverty alleviation and targeted poverty overcoming.
Li Xiaoyun, Professor of China Agricultural University and Member of the Expert Advisory Committee of the Leading Group for Poverty Alleviation and Development of the State Council, said at the International Charity Summit themed as "To Alleviate Poverty in China in 2020" that the key to social forces participating in poverty alleviation is not the amount of funds raised, but innovation and professionalism. "Non-profit organizations should be irreplaceable in social development and poverty alleviation. They can do things that the government can't do: lead talents and wisdom, and lead the way to achieve healthier development." said Li Xiaoyun.
Therefore, he gave an example that the specific operations of the government's poverty alleviation plan can be participated and implemented by social forces. For example, the poverty alleviation program and budget of Hebian village in Yunnan Province were jointly completed and implemented by the Narada Foundation and Youcheng Foundation.
Ji Shuxian from Shenyang has been providing professional psychological counseling and psychological education training to the teachers of the schools through the purchase service of the local government. "The local government does not have the corresponding manpower, and I happen to be able to meet their needs, so I have been working with them for many years." Ji Shuxian said so to the reporter.
"The task of poverty alleviation is arduous and complicated. Social organizations know best about service people, and can complete the task in a deeper, more detailed and personalized way than the government. For example, people who are poor due to illness can seek help from professional aid agencies, and those who lack education can seek help from professional education institutions. Therefore, poverty alleviation requires political and social cooperation in particular." said Ling Chong.
Docking channels need to be further improved
According to the officialdata provided by CCF, the Fair attracted 789 institutions, 876 projects and 312 kinds of consumer poverty alleviation industries in 31 provinces, autonomous regions, municipalities directly under the Central Government, Hong Kong, Macao and Taiwan. During the Fair, 49 poverty alleviation projects realized resource docking with a docking amount over 13 billion yuan.
Peng Hongchun, a person from a rural cooperative in Yecheng County, Sinkiang, came to the Fair with the red dates and walnut products produced by the cooperative, who would carry the rest of the goods to Changsha to participate in another fair after the end of this one; while Zhang Lifei, who came from Ning Xia and produced fresh mutton, placed an order of dozens of packs of frozen mutton directly through the fresh food store in JD, and delivered them to the Fair for sales exhibition on the night before its start. When they sold their products to Southern Weekly reporter, they said that their products were "authentic", "good quality" and "guaranteed".
"During the few days of the Fair, more than a dozen agents expressed interest in our products. At other times, these products are mainly sold through Wechat business, Taobao, local distributors and other channels, and further contact is needed to know whether cooperation can be achieved." Said Peng Hongchun. Zhang Lifei said that the Ningxia Yanchi mutton produced by them needs to find a higher-end customer base because of the cost and quality restrictions. "In normal times, we mainly sell them online through Fresh Hema and JD Fresh Goods. It is not always possible to find a group that intends to sign up within a few days." Said him.
In addition to food, the products from the various poverty-stricken areas to participate in the sales exhibition of charity projects also include embroidered, leather bags, clothing and so on. Some exhibitors revealed to reporters that if these products were not bought before the end of the fair, they would often be discounted and sold at a reduced price because they could not take them and travel far.
Ling Chong said that after the end of this fair, he was faced with planning the work of next one. One of the things to be improved is to promote the docking of projects and attract more enterprises and social forces to initially reach the intention and mode of docking before the start of the fair, so that all exhibitors can gain something.
The key to letting the CCF develop the essence to poverty alleviation lies in "focusing on targeted poverty alleviation and resource docking directly to the village, the household and the people, so that deep poverty areas can get real help, especially in the 'hematopoietic'." said Ling Chong.
Source: Southern Weekly