On the morning of August 1st, the 7th China Charity Fair (hereby referred to as "CCF") Organizing Committee Meeting was held in Beijing. The Meeting confirmed that the 7th CCF will be held in Shenzhen from September 20th to 22nd this year. The theme of this year's CCF is "Focus on Poverty Alleviation, Create a Better Life Together!"
Minister of Civil Affairs Huang Shuxian, Deputy Director of the State Council Poverty Alleviation Office Xia Gengsheng, Vice President of the Red Cross Society of China Wang Rupeng, Vice Governor of Guangdong Province Qin Weizhong, Mayor of Shenzhen Chen Rugui and other colleagues from SASAC (State-owned Assets Supervision and Administration Commission of the State Council), ACFIC (All China Federation Of Industry And Commerce), Shenzhen Municipal Government, CCA (China Charity Alliance) etc. attended the Meeting. Wang Aiwen, Vice Minister of Civil Affairs, conducted the Meeting.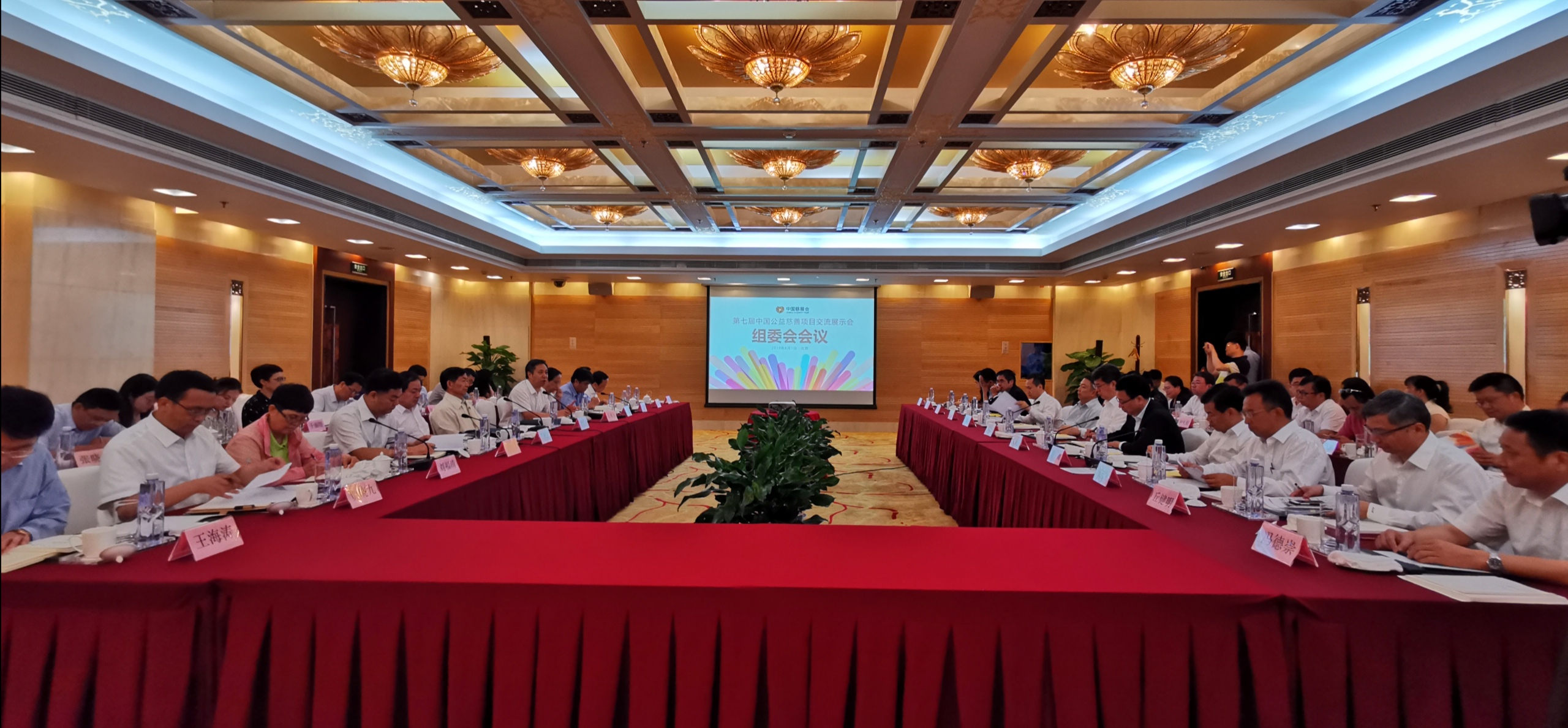 In the Meeting, the overall plan and the progress of preparations for the 7th CCF was announced, which have been discussed and implemented, as well as matters related to exhibition. The participating units fully appreciated the overall plan and ideas on exhibition of the 7th CCF. They believed that the Cuff's precise focus on the theme "poverty alleviation" since 2018 for three consecutive years fully implements Xi Jinping Thought on Socialism with Chinese Characteristics for the New Era and his focused discussion on poverty alleviation and development. The innovative form and precise implementation of the 7th CCF will allow it to become an effective platform and channel for social forces to take part in the "China Story" on poverty alleviation, combining "Chinese Wisdom" on poverty reduction and explore the "China Program" on charity and helping the poor.
Chen Rugui stated that this year is the 70th anniversary of the founding of New China, and also the 40th anniversary of the establishment of Shenzhen city. Shenzhen will remember the Party's strategic intent of establishing a special economic zone, striving to build a pioneering demonstration zone of socialism with Chinese characteristics. It will be at the forefront in China in building a social governance structure of co-construction, co-governance and co-sharing, and persists on contributing to China as a special zone. He stressed that Shenzhen will take CCF as an opportunity and a starting point, to mobilize more resources and put in effort into precise poverty alleviation and charity, to bring the exhibition to the spotlight, to be distinctive and fruitful, so that it will be pragmatic, popular, creative, and highlights the China Story in poverty alleviation, thus contributing more to China's development of charity and building of an overall well-off society.
On behalf of the Organizing Committee, Huang Shuxian fully approved the early preparations of the 7th CCF. He emphasized that this year is a crucial year to win the fight against poverty, and to build an overall well-off society. As the only national-level charity exchange and display platform, CCF should take Xi Jinping Thought as guidance, and thoroughly implement CPC's decisions and deployment on poverty alleviation and charity, be precise and focused on its positioning and implementation, and become an important platform for Xi Jinping's focused discussion on poverty alleviation and development, for disseminating Xi Jinping Thought, and for mobilizing social forces on poverty reduction.
Huang Shuxian requested that the 7th CCF must provide practical advice, effort and effectiveness for the decisive fight against poverty. While organizing the exhibition, it is necessary to display the effective practices and spiritual outlook of the party committee government and people in poverty-stricken areas to fight poverty and self-improvement, to demonstrate the achievements of CPC and local governments' coordination and partner assistance between the eastern and western regions on poverty alleviation, and to show the results of poverty alleviation policies. During the exhibition, it is essential to focus on the core issues, weak links and crucial chains on poverty alleviation, as well as discussing hot topics and difficulties faced by charities, to build a long-term system for poverty alleviation and development in the new era, and provide reference and example for charity innovation and development in the new era. On the resource matchmaking, each organizing unit must make full efforts and practical moves to link charity resources to deep poverty-stricken areas and special hardship groups. It is necessary to maintain a safety bottom line, to effectively prevent and resolve various risks, and ensure the political safety and the safety of the lives and property of the people in the exhibition. Each organizing units should work together and cooperate closely to set a new height for the 7th CCF, achieve new breakthroughs and new accomplishments, making new and greater contributions to winning the fight against poverty and building an all-round well-off society.