On November 23, 2021, the International Philanthropy Symposium was successfully held at the 9th CCF in the form of online and offline participation, during which more than 30 experts and scholars were invited to respond to the proposition of the times on how philanthropic power could contribute to rural revitalization and promote international cooperation and experience exchange in rural development worldwide against the background of the comprehensive launch of China's rural revitalization strategy and the challenges of global sustainable development and international cooperation in the face of the epidemic, under the theme of "Rural Revitalization: A More Balanced World". The symposium is divided into keynote speeches, special seminars and lightning talks.
The 2021 International Philanthropy Symposium is organized by the Organizing Committee of CCF, undertaken by the Institute for Philanthropy Tsinghua University and Shenzhen CCF Development Center, and hosted by Social Innovation and Rural Revitalization Research Center, School of Public Policy & Management, Tsinghua University; Tencent Foundation; Shenzhen Huaqiang Group; Guangdong Guoqiang Foundation; CCB Shenzhen Branch; Shenzhen Charity Federation; Shenzhen Welfare Lottery Distribution Center; Tsinghua University Education Foundation. The public could visit the official website of the cloud exhibition platform (https://online.cncf.org.cn/zh/) or scan the QR code of the mini program to participate in the online cloud exhibition.
Multiple means to promote rural revitalization and balanced development
The year 2021 is the opening year of the 14th Five-Year Plan, and also the initiating year of consolidating and expanding the achievements of poverty eradication and rural revitalization. Standing at such an important historical point, it is timely for China and the world to promote the theme of rural revitalization worldwide. During the keynote speech session, seven invited guests delivered speeches on "rural revitalization and balanced development". WANG Ming, Professor of the School of Public Policy & Management, Tsinghua University and Director of Institute for Philanthropy Tsinghua University, presided over the seminar.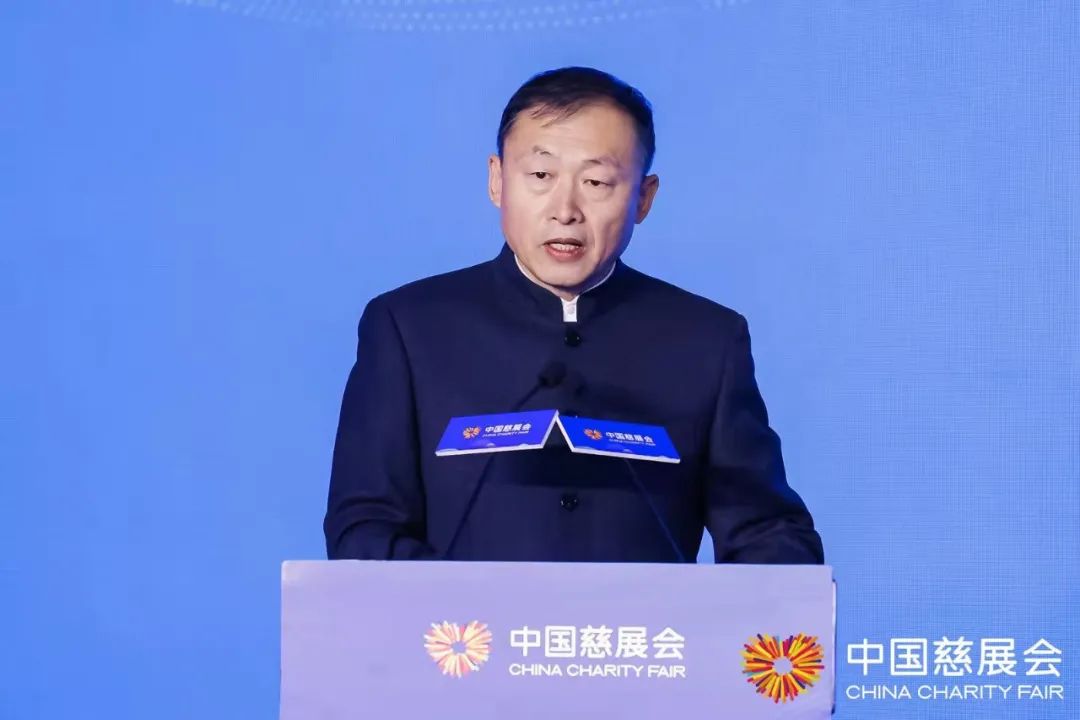 "The villages should not become subordinate to the urban economy, but build their own independent economic system", Muhammad Yunus, founder of the Grameen Bank and Nobel Peace Prize laureate, participated in the conference by video and suggested that financial construction is important for rural development and that "finance should not only serve rural people, but also rural women". Muhammad Yunus shared his experience of establishing Grameen Bank in Bangladesh to provide small loans without collateral for village women, especially low-income women, so as to encourage them to work hard and earn money to repay the loan, which has had a highly significant positive impact in rural Bangladesh. Nowadays, he is bringing the Grameen Bank experience to rural China to address the problems left by the traditional financial system in the villages, and this pilot project has achieved success. "The current villages have the infrastructure support and the talent, so why not open financial institutions in the villages to serve the villages and give the rural areas the benefits?" Muhammad Yunus proposed that villages should set up economic systems that provide jobs and qualified educational conditions, and meet the needs of life.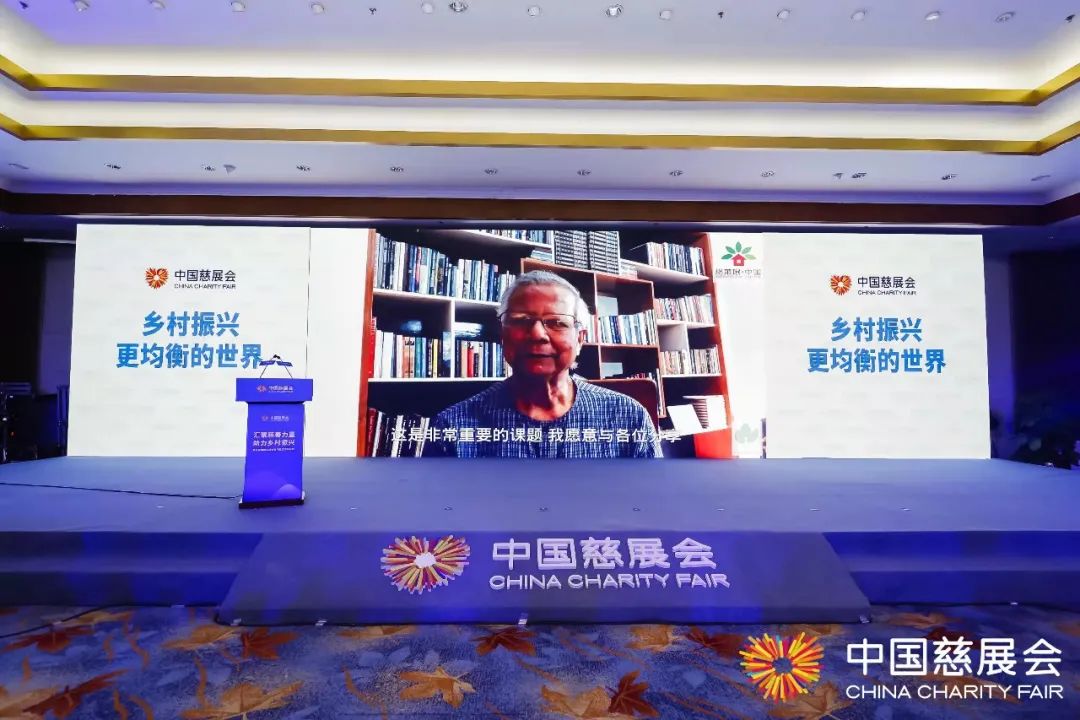 "Single administrative means are no longer applicable to the countryside as a community of production and life," YE Jingzhong, Professor and Dean of the College of Humanities and Development of China Agricultural University, believes that the key to the transformation and change of rural revitalization lies in governance. He shared the case of his participation in the Dutch countryside and the research of Gaotai Town in Qing Shen County, Sichuan Province, and suggested that social construction and effective governance must leverage "three effects" to promote national development, regime building and social stability. In addition, he suggested recognizing the necessity of social construction, leaving enough space for social construction, building a long-term mechanism for social construction in order to stimulate the endogenous development momentum of the masses, exploring multi-channel forms of social construction, and leveraging social construction practices for policy advocacy.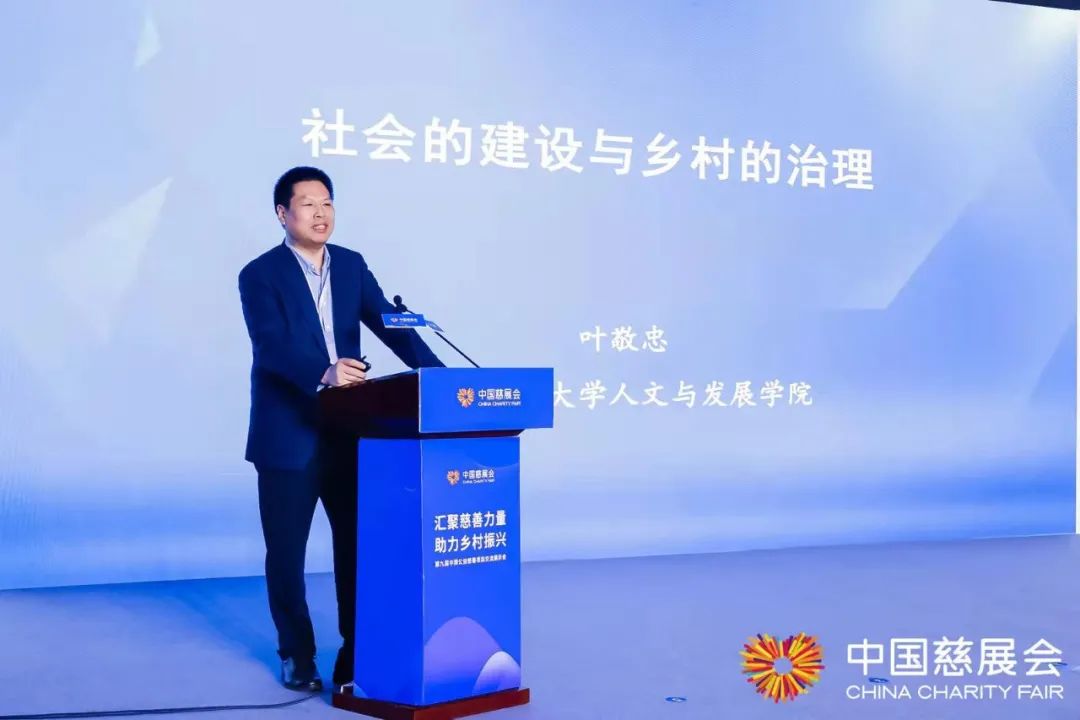 At the congress celebrating the 100th anniversary of the founding of the Communist Party of China, General Secretary XI Jinping declared that China has achieved the first 100-year goal, built a moderately prosperous society, and historically solved the problem of absolute poverty. Under this background, Scott D Rozelle, an internationally renowned agricultural economist and professor at Stanford University, presented his view in his speech that after China has all but eliminated poverty, low-income groups will be the new focus, and the core of solving this problem lies in improving their human capital, including health, education and overall development levels. Currently, cities have become increasingly mechanized, but the low level of scientific knowledge and skills of a large number of people in rural areas has led to an increasing influx of people into informal labor-intensive services, and the growth rate of their income has become lower and lower, which requires us to make greater efforts to improve the quality of education in rural areas and to stimulate their learning in early childhood.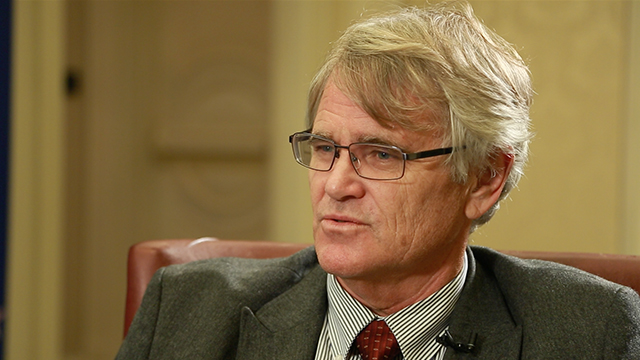 PENG Feng, Deputy Secretary-general of China Internet Development Foundation, put forward the view of "adding 'wisdom' and improving 'quality' to rural revitalization through Internet public charity". He believes that digital village construction is a key part in the context of comprehensive promotion of rural revitalization, and it is necessary to leverage the advantages of the platform, integrate high-quality resources, and promote digital village construction with multi-point linkage; to create a good atmosphere, continue to expand the sound of communication, diversify publicity, fully mobilize the communication advantages of the Internet, and mobilize hundreds of millions of netizens and all walks of life to participate in digital village construction; to focus on education, establish a talent support system, and create a group of organizational and leading talents in the field of digital village, so as to stimulate the construction of endogenous power.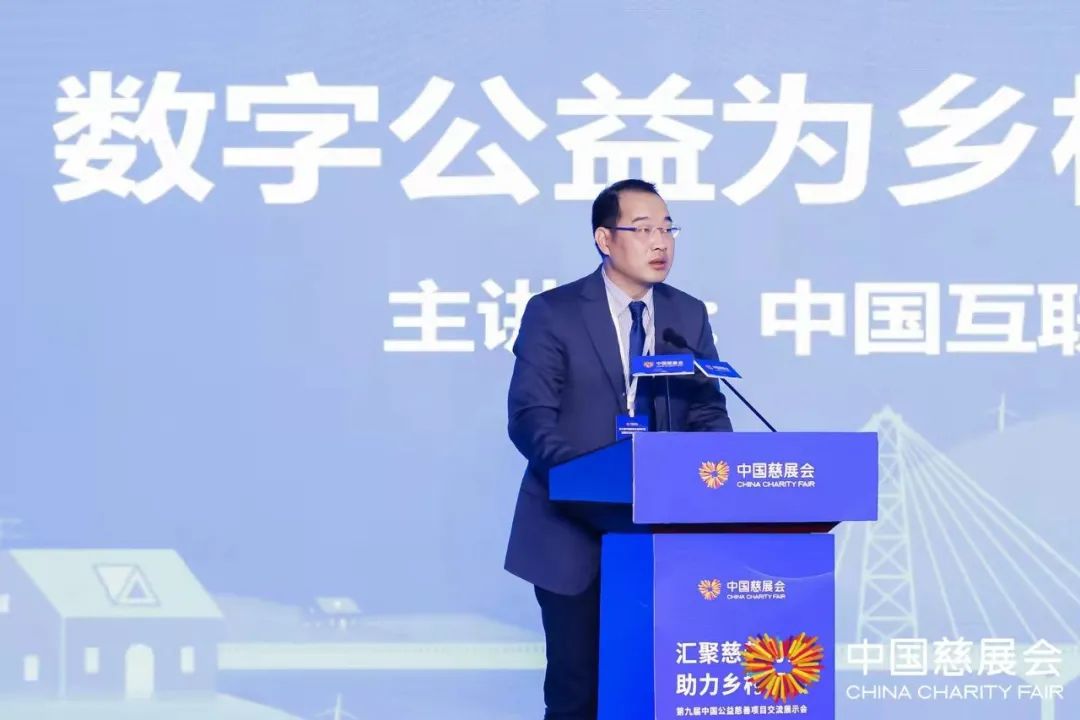 Cynthia McCaffrey, UNICEF representative in China, said that interventions focused on rural development are very important initiatives, and she suggested that charitable organizations and caring individuals should focus on investing in areas that could make a lasting impact. She also mentioned that the first step is to provide quality education, healthcare, housing and sanitation facilities for all children, especially disadvantaged children in rural areas; secondly, to increase investment in social service teams and strengthen social service teams in rural areas; invest more in the developmental period of children from 0 to 3 years old, as well as in adolescence, and call on the public to pay attention to children's mental health and invest more resources, energy and attention to care for children and provide them with understandable solutions. Finally, she suggested that she hoped she could gain more partners in her future work, gather more power and expertise, invest in children, and work together to obtain a balanced and equal developmental power for children.
"For rural revitalization, industry Prosperity is the important foundation, ecological livability is the basic requirement, and farmers becoming better off are the ultimate embodiment." DANG Yanbao, Chairman of Ningxia Baofeng Group Co., Ltd, Chairman of Baofeng Yanbao Charity Foundation and winner of "China Charity Award", delivered a speech online. He said that private enterprises are the main force in the construction of socialist modernization, and public charity, as the main way of the third distribution, should play a more important role. He proposed that talent is the key to the revitalization of the countryside, and that more efforts should be made to support education in backward areas, especially in rural areas, and to promote balanced development and common prosperity with high-quality enterprise development.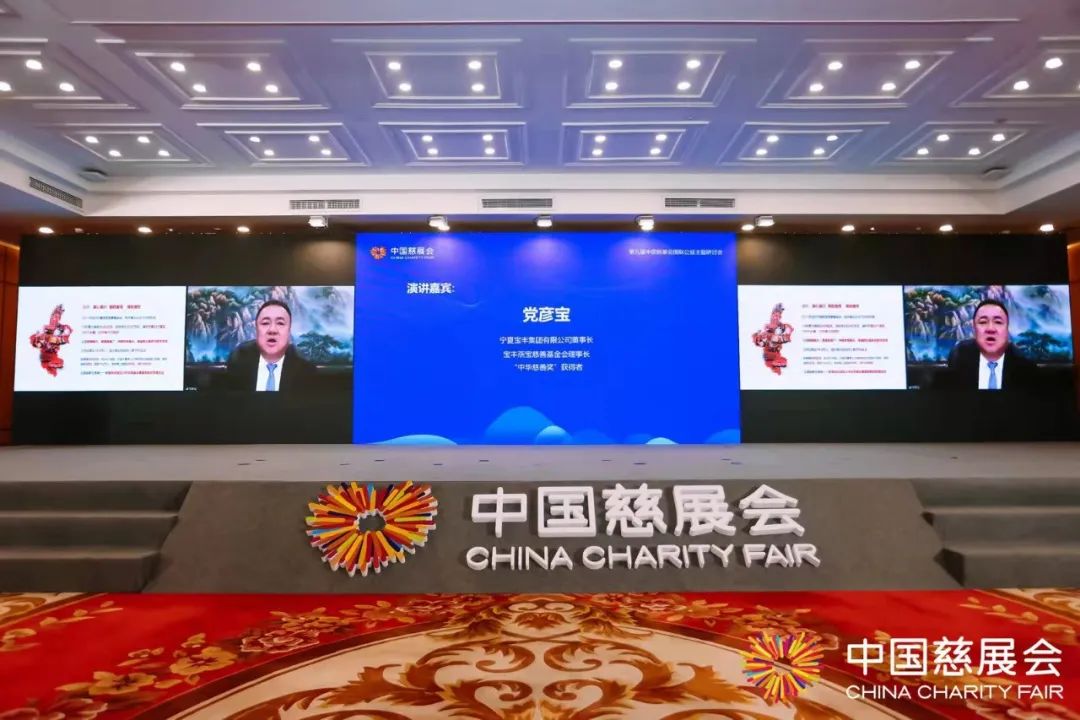 In recent years, Tencent has set up a series of co-creation platforms in the field of public welfare to collaborate with the whole society to revitalize the countryside. At the International Philanthropy Symposium, CHEN Juhong, Head of Tencent's Sustainable Social Value Organization (SSV), shared the innovative practices of Tencent's public welfare platform. For example, after the Wenchuan earthquake, Tencent made use of its Internet platform and social power to allow more Internet users to participate in the post-disaster reconstruction, and after that, it also let people know more about villages. As of October 2021, more than 30 provinces and 16,283 villages and communities have joined the "For Village" platform, linking party affairs, village affairs, affairs and business, and creating a digital village platform with the participation of millions of people. At present, the Tencent Foundation has upgraded its actions to build a three-dimensional rural revitalization system, focus on new practices to help farmers, "promote the third distribution digital infrastructure", and provide sustainable social value innovation.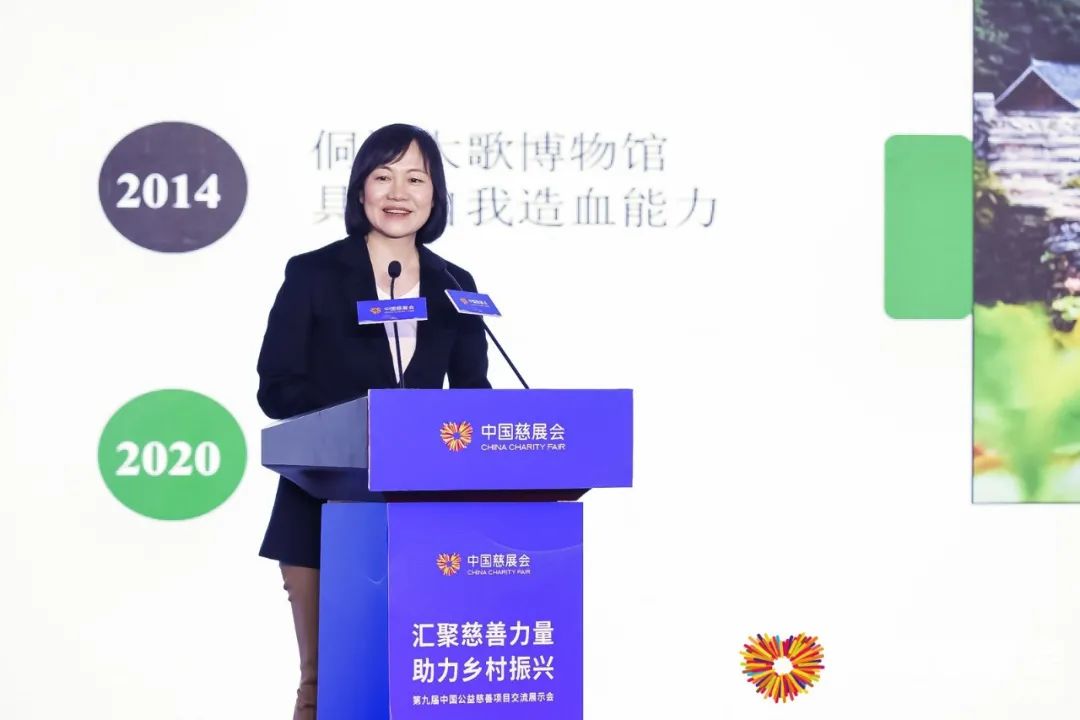 Chinese Experience of Social Forces Contributing to Rural Revitalization
In the development process of rural revitalization, the participation of social forces such as enterprises, social organizations and volunteers is one of the characteristics and advantages of China. Whether it is the stage of poverty eradication in the past or the stage of consolidating the achievements of poverty eradication and rural revitalization nowadays, social forces have played a very important role in making up for omission.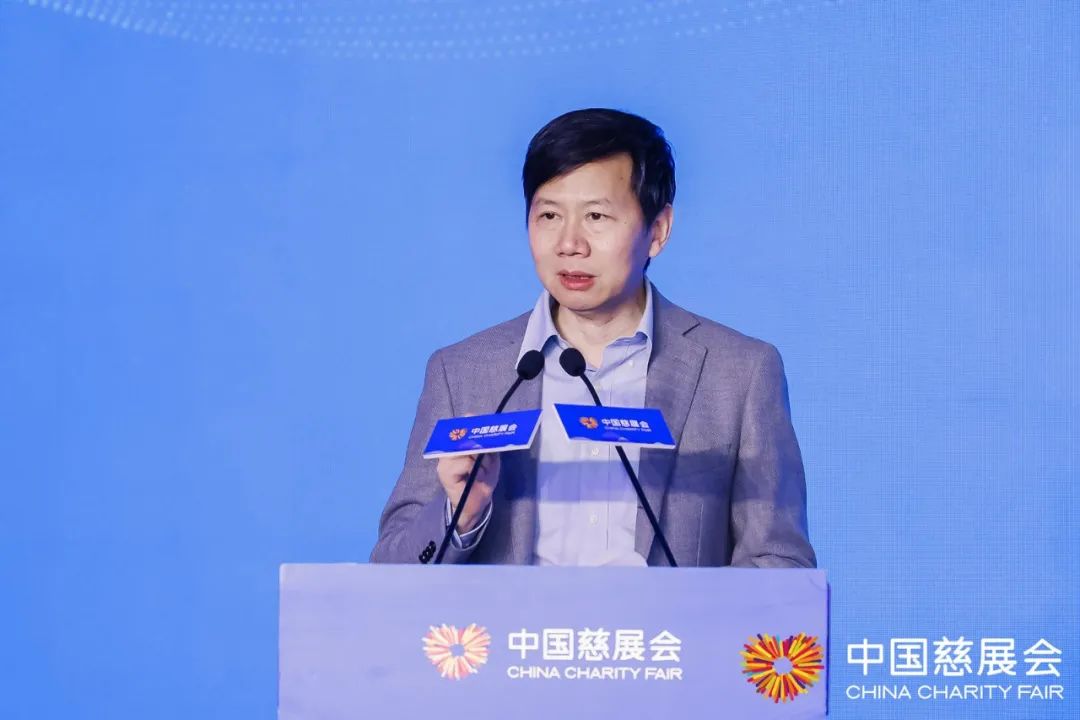 On the afternoon of the same day, DENG Guosheng, Professor and Vice President of the School of Public Policy & Management, Tsinghua University and Director of the Center for Social Innovation and Rural Revitalization, presided over the seminar as the moderator on the topic of "Social Forces and Rural Revitalization" and invited six guests to share the Chinese experience and solutions of social forces in rural revitalization.
How do public welfare organizations promote rural revitalization? TANG Min, a counsellor of the State Council and Deputy Director of YouChange China Social Entrepreneur Foundation, shared the achievements of its rural revitalization in Longtang Village, Leshan County, Guizhou Province, and other places, and believed that rural revitalization is not only the revitalization of agricultural industries, but also the transfer of industrial industries to the western region, such as the social support public welfare program for rural youth teachers and the online training program for rural doctors. "The future of China's public welfare needs larger-scale social participation and more innovative participation modes, and we all join forces to make it a success."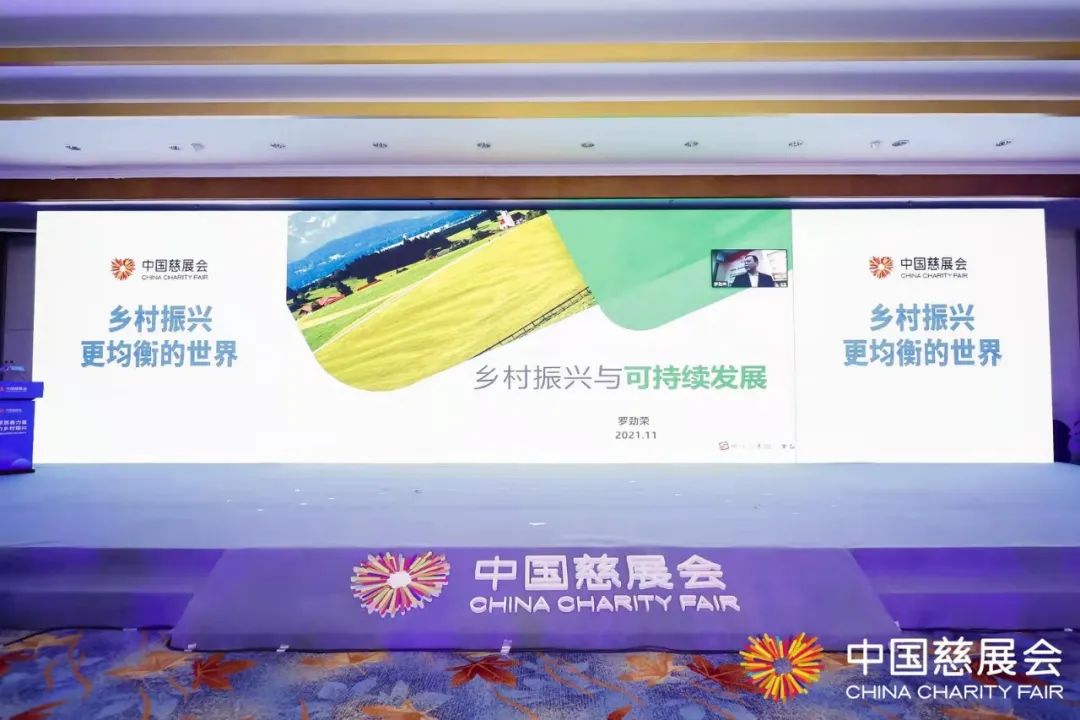 Over the years, Country Garden has successfully assisted 490,000 people out of poverty from a single project in 57 counties of 16 provinces, and has provided comprehensive solutions for rural revitalization. LUO Jinrong, Assistant President of Country Garden Group and Vice Chairman and Secretary General of Guangdong Guoqiang Foundation, shared the rural revitalization cases in Yuzui Village of Yingde and Dongxiang Autonomous County of Linxia Hui Autonomous Prefecture in Gansu Province, proposing to operate social enterprises by market-oriented means, creating a market-oriented mode to achieve sustainable rural development, allowing enterprises to fulfill their social responsibility in their business activities, linking their industrial advantages and resources to public welfare and rural revitalization, and returning the profits to public welfare and rural revitalization, so as to form a virtuous cycle.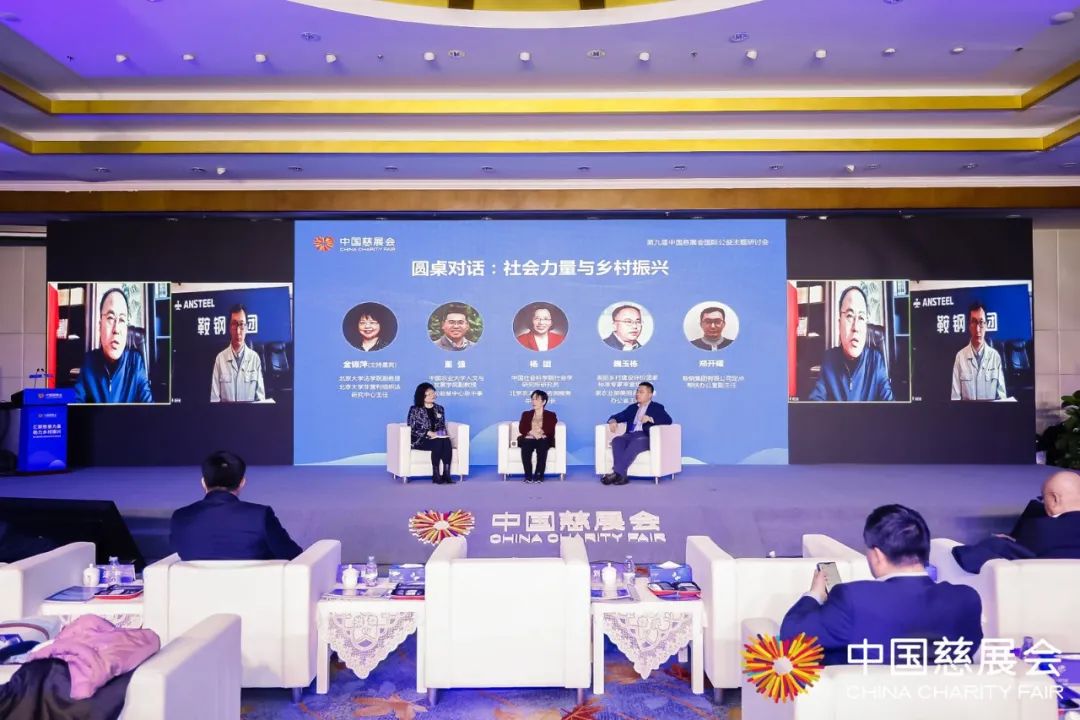 In the subsequent roundtable dialoge on the same topic, JIN Jinping, Associate Professor of Peking University Law School and Director of PKU Research Center for Nonprofit Organizations Law, as the moderator, discussed with four guests.
WEI Yudong, Head of the Expert Review Group of National Standards of the Evaluation for the Construction of Beautiful Villages and former Director of the Office for the Construction of Beautiful Villages under the Ministry of Agriculture, believed that public welfare organizations shall be better developed and play a greater role as rural revitalization moves forward.
"To be 'village-based' and unite village collectives and individuals to form a community," YANG Tuan, Researcher of the Institute of Sociology of the Chinese Academy of Social Sciences and Director of the Beijing CCFA Consulting Service Center, proposed that social organizations should unite with village collectives and individuals to stimulate local vitality.
DONG Qiang, Associate Professor of the College of Humanities and Development of China Agricultural University and Director-general of Xiaoyun Poverty Assistance Center, proposed that the most important thing for social organizations is to change their concept, start from rural revitalization, seek out the shortcomings of rural revitalization, and fine tune for the work.
ZHENG Kaiyao, Deputy Director of the Office of Targeted Assistance of Anshan Iron and Steel Group Co., Ltd, said that rural revitalization should be well designed at the top level and insist on drawing a blueprint to the end, the most important of which is the feeling and evaluation of the work by the common.
Promoting international synergy and cooperation in rural revitalization
Rural revitalization is not only an important strategy for China to move towards its vision 2030, but also an important global issue. Since the rise of international aid and international development in the 1960s, a large number of philanthropic organizations around the world have devoted themselves to rural development and accumulated rich experience in rural development.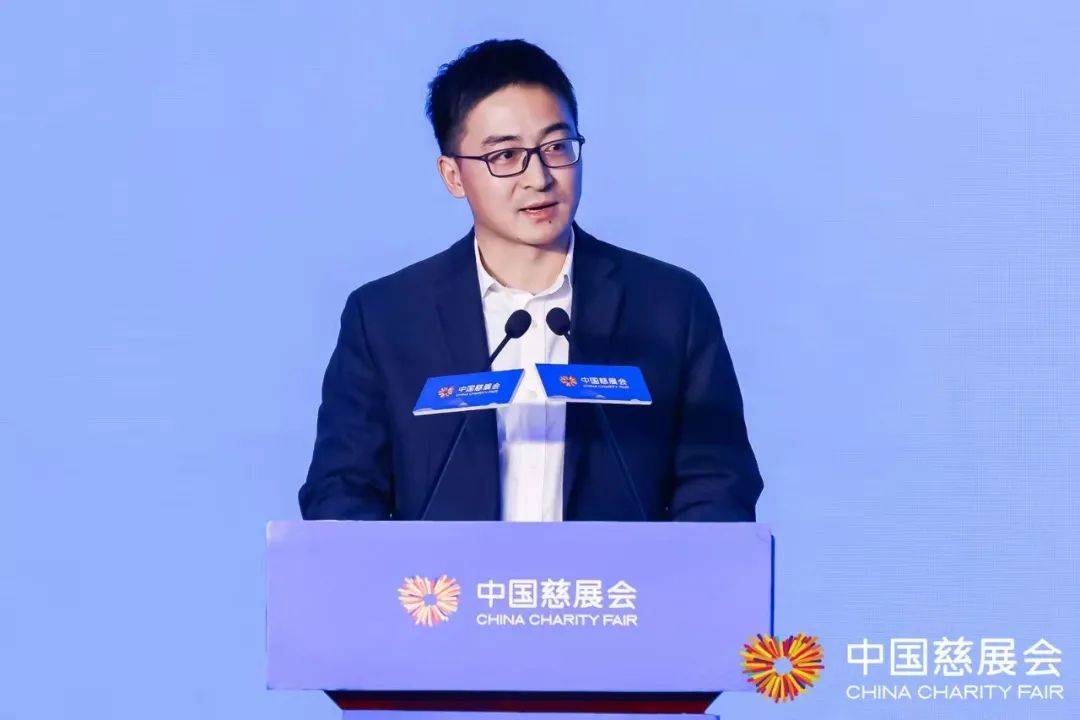 What are the international experiences of philanthropic efforts to promote rural development around the world? What are the experiences of Chinese charities that can be shared with the world? In the following seminar, 10 guests shared their views on the theme of "International Experience and Cooperation in Rural Revitalization". LAN Yuxin, Associate Professor of the School of Public Policy & Management, Tsinghua University and Assistant Director of the Institute for Philanthropy Tsinghua University, moderated the session.
"We need to put special emphasis on the social participation and labor participation of the elderly in an aging society, which is good for their physical health and economic self-reliance." Through detailed data, LU Mai, former Deputy Director of the China Development Research Foundation, revealed the serious aging phenomenon in China's rural population. He introduced Japan's advanced experience in dealing with the aging problem, citing Japan's experience in earthquake prevention and rural construction as examples. LU Mai also talked about the life of children in the villages out of poverty in China, and proposed to provide first-level pre-school education services for rural children as well as early parenting services for disadvantaged rural children and create a good living environment for the children.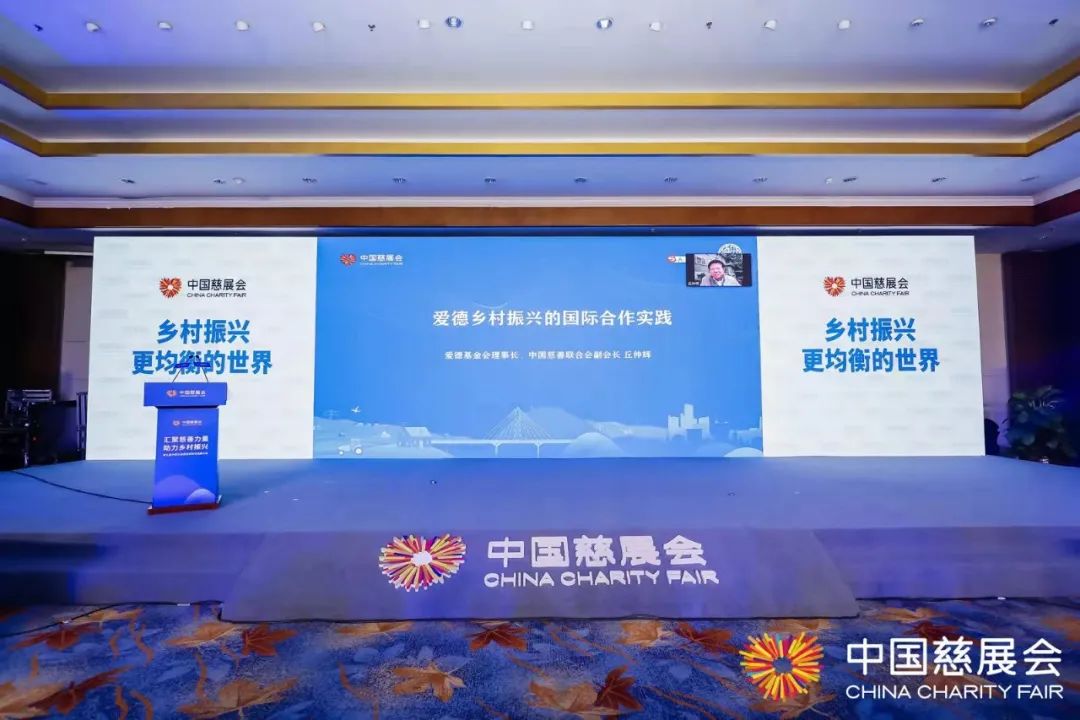 "Chinese social organizations, not only should carry out rural revitalization work at home, but also 'go out'." QIU Zhonghui, Chairman of the Amity Foundation and Vice President of China Charity Alliance, shared a series of international explorations made by the Amity Foundation in rural revitalization through two aspects: "bringing in" and "going out". According to QIU, the international cooperation of social organizations should be centered on human development, based on the common principles of independence, mutual respect and no strings attached, always accepting the cultural and capacity differences of partners equally, and working together to achieve world peace.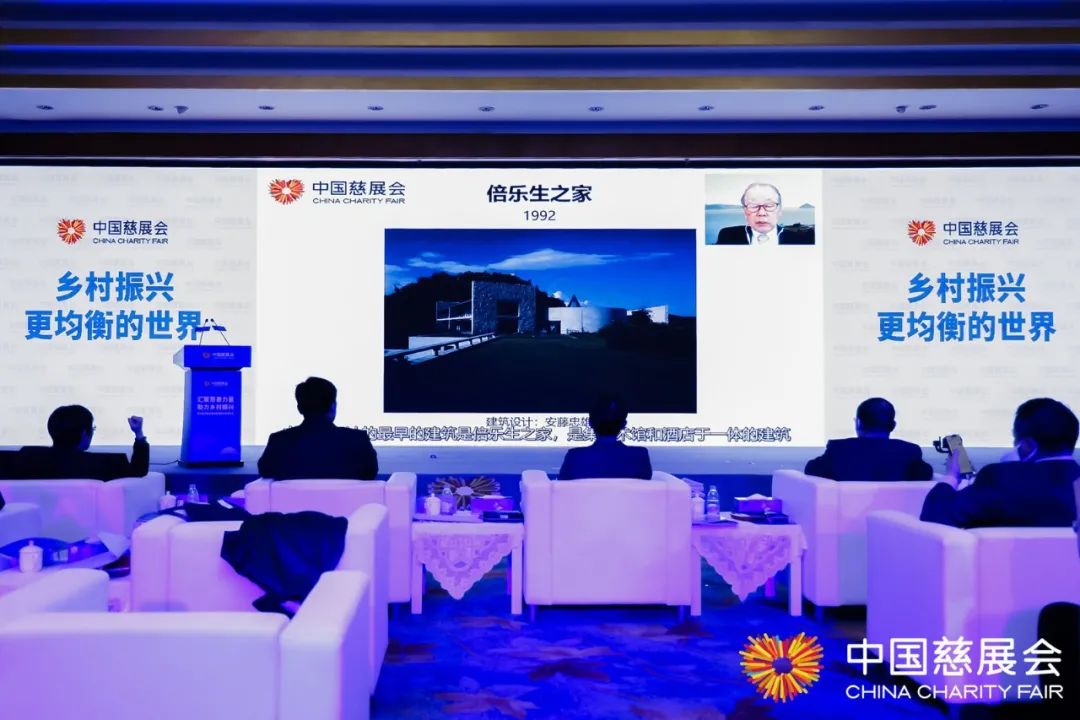 "The problem of the widening gap between urban and rural areas exists not only in China but around the world, and it has become a huge social problem." Soichiro Fukutake, Chairman of the Fukutake Foundation of Japan and a well-known philanthropist, participated in the conference by video. He shared his past experiences of reviving the countryside with modern art on Benesse Art Site Naoshima in Japan and Peach Blossom Island in China. Seeing the devastation of Japan's large and small islands, Soichiro Fukutake resolved to use "modern art" as a weapon to resist over-urbanization and modernization movements. Through the power of art and cultural communication, he hoped to bring hopes and dreams to China's rural areas and farmers, and to contribute to the revitalization of the countryside.
"The problem of rural development is far from being solved by China alone, which requires the concerted cooperation of the international community." Georgios Tzogopoulos, Senior Researcher at the Institute of European Studies in Nice, France, participated in the conference by video. He suggested that the key to achieving international cooperation for rural development lies in four aspects: increasing productivity, building resilience, linking rural development, climate change and environmental protection, and ensuring that the gap between rural and urban areas does not continue to grow in the future. The core to achieve these four goals is to use smart agriculture and new technologies that not only allow farmers to meet the needs of the market even when times are tough, but also provide new solutions.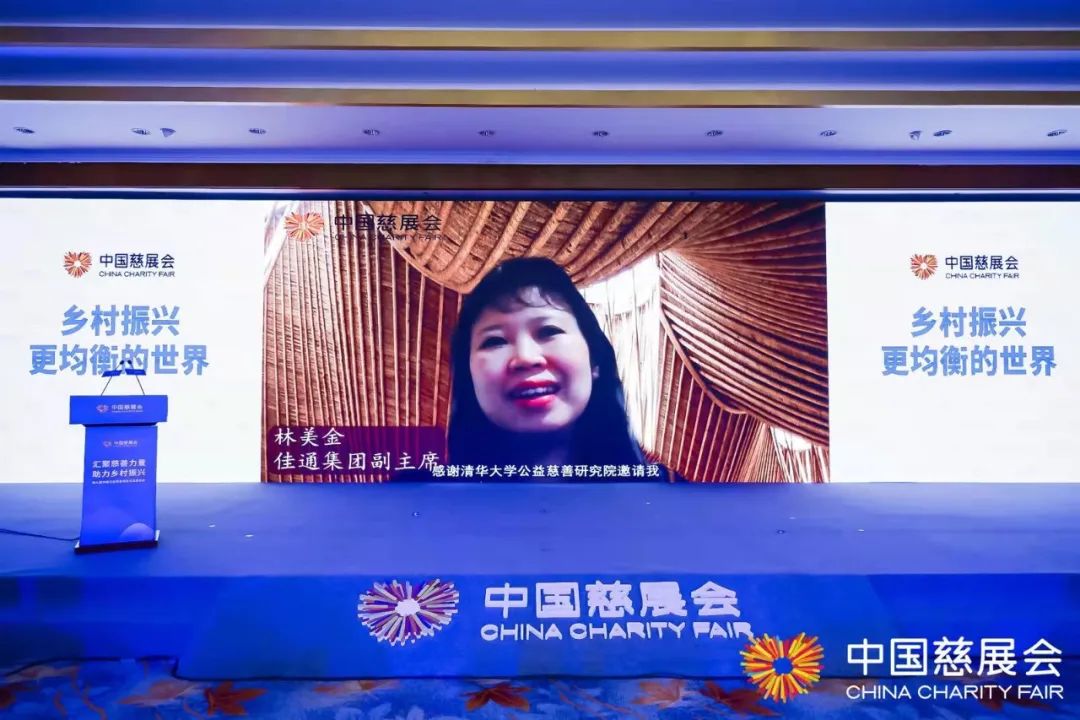 "We hope to learn from China's experience in poverty assistance, and we are actively exploring and practicing." LIN Meijin, Vice Chairman of Singapore GitiGroup, Vice chairman of United in Diversity Foundation and Chairman of Tsinghua Southeast Asia Center, participated in the conference by video. She suggested that education shall be the core to enhance the mindset, and that changing education, financial system, and technology could help solve real-world problems. The UID Foundation strives to promote cross-border exchanges and cooperation, and has a supportive partnership with Tsinghua University for more than 25 years. It will also create the MIT IDS Asia Pacific Center, the U College, and the UN Sustainable Development Action Network to contribute to the achievement of the UN Sustainable Development goals.
In the roundtable dialogue, HUANG Haoming, Vice President of Shenzhen International Institute for Public Welfare, served as the moderator for the discussion with four guests.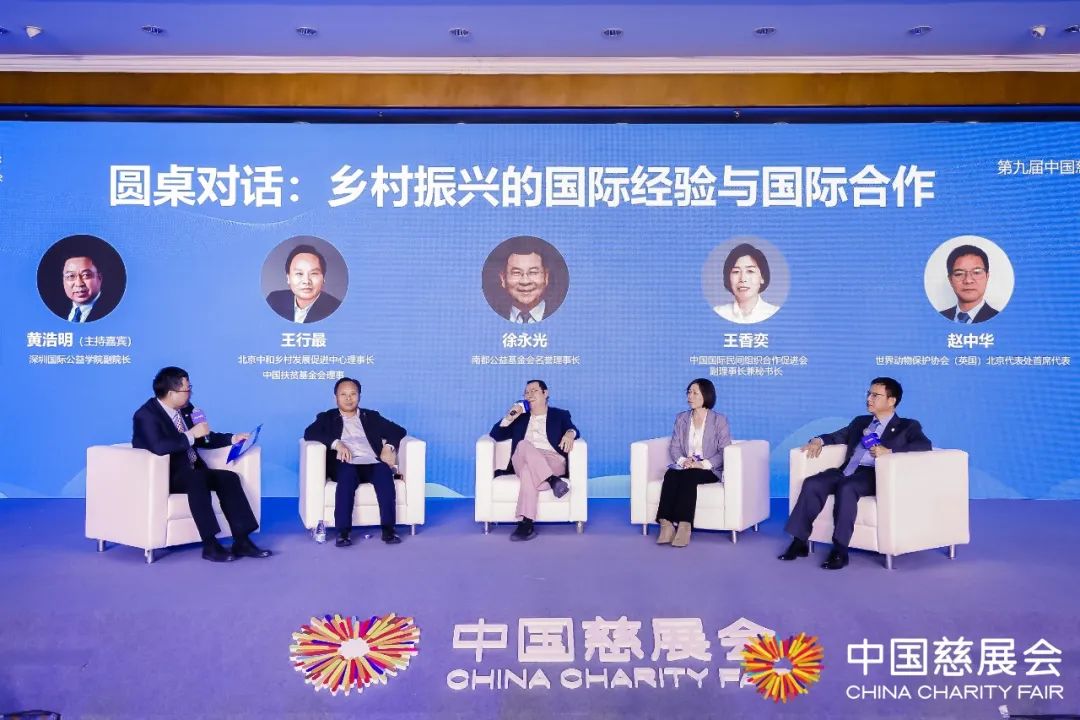 XU Yongguang, Honorary Director of Narada Foundation, introduced the China-Africa Hope Project, a collaboration between China Youth Development Foundation and Narada Foundation, which has established more than 20 hope schools in Africa. XU also suggested that synchronized classrooms should be developed in China to promote education informatization.
WANG Xingmao, Director of Beijing Zhonghe Rural Development Promotion Center and Director of CFPA, introduced that during the epidemic prevention and control period, CFPA has carried out 14 projects around the six UN Sustainable Development Goals. At present, CFPA is actively promoting the "International Love Package Project".
WANG Xiangyi, Vice President and Secretary-general of the China Association for the Promotion of International Civil Society Organization Cooperation, said that CFPA started to focus on climate change issues in 2017 and began to explore the combination of rural development and climate change by launching the "China Rural Climate Change Pilot Project".
ZHAO Zhonghua, Chief Representative of World Animal Protection (UK) Beijing Representative Office, discussed around the topic and believed that biodiversity conservation and rural revitalization efforts can co-exist, such as ecological tour guides.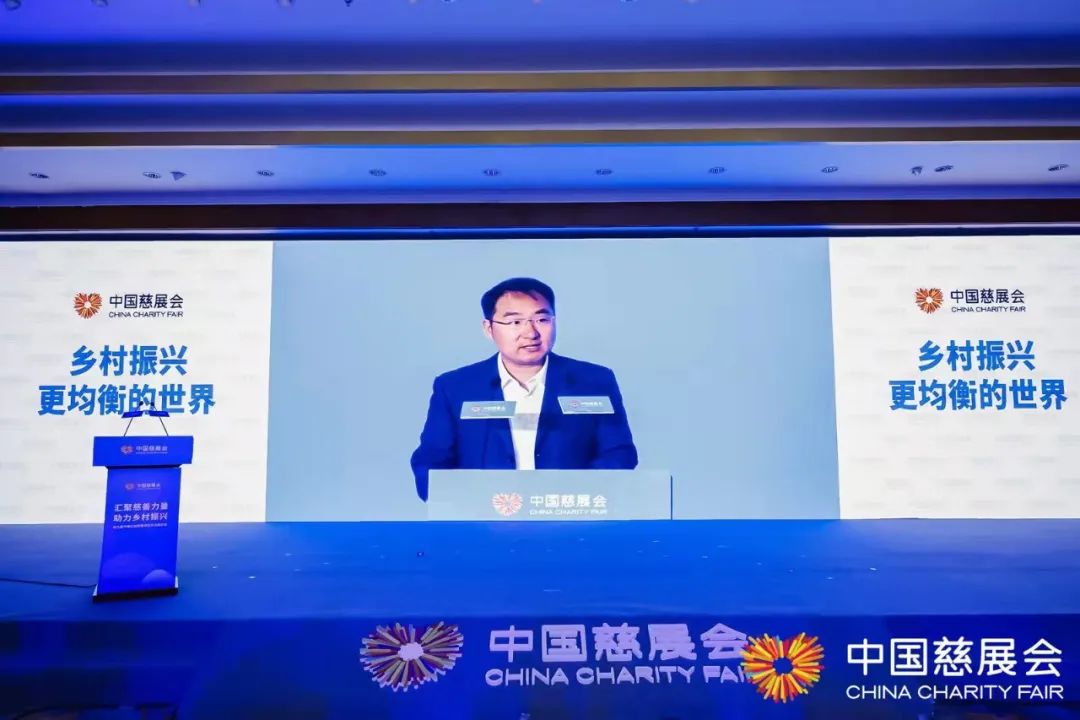 In the lightning speech session, XU Peng, Deputy Secretary of Suichuan County Party Committee and Vice Mayor of the County People's Government, shared Suichuan County's achievements and practices in charity and public welfare, proposing that charity should improve the institutional system, highlight cultural attributes and strengthen supervision so that each charity project could function more effectively under public supervision.
In the end of the International Philanthropy Symposium, LIU Fuqing, Vice President and Secretary-general of China Charity Alliance, delivered a closing speech.
It is reported that the International Philanthropy Symposium is a brand meeting created by CCF, which aims to build a platform for international philanthropy exchange and dialogue from a global perspective, to incorporate high-end wisdom from home and abroad, and to discuss the exchange and cooperation of international philanthropy charity development. So far, the International Philanthropy Symposium has been held for eight times, covering a variety of topics such as rural revitalization, sustainable development and international philanthropy; has invited over 300 experts, scholars, entrepreneurs, industry leaders, people with experience in the front line of philanthropy, media reporters, young generation and international friends to share and exchange opinions; and has realized the brand concept of "Cross-border, Innovation, Future, Practice".