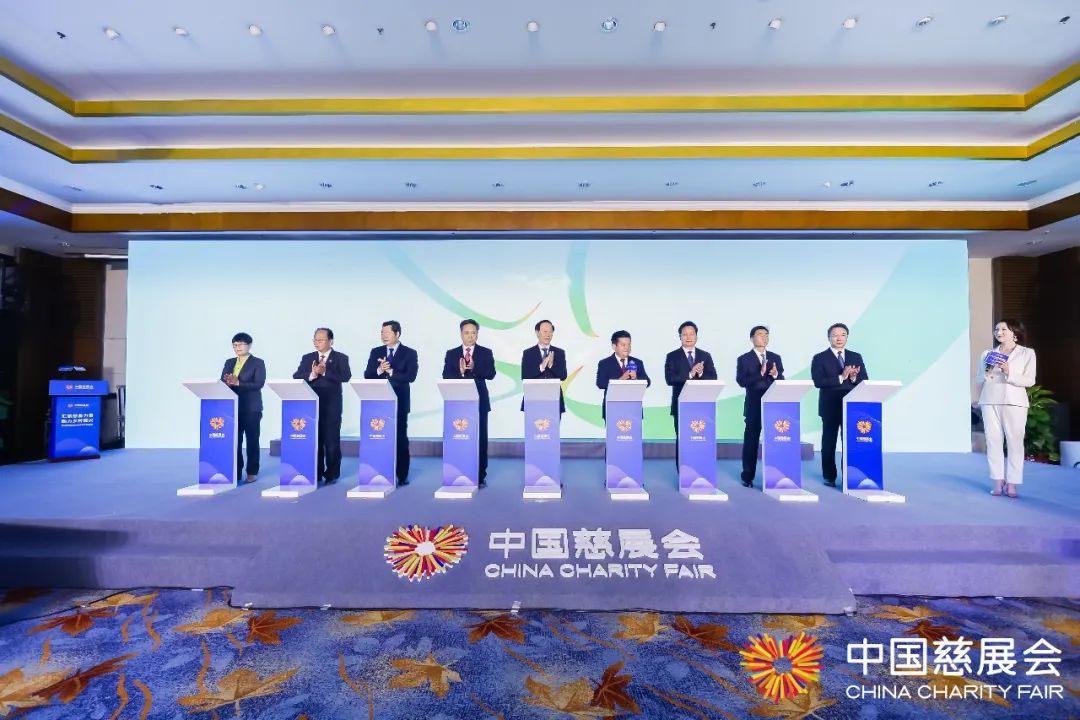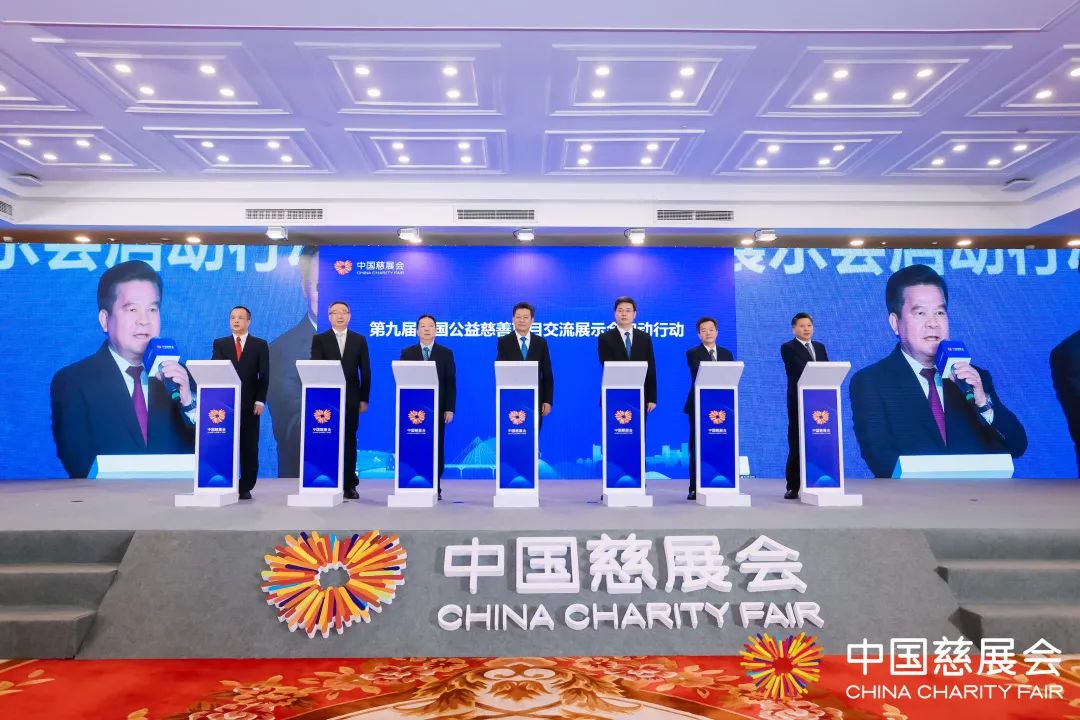 On November 25th, the 9th CCF, which lasted for three days, came to an end. With the theme of "Gathering Philanthropic Engagement to Promote Rural Revitalization", it was organized in a comprehensive digital way, using the Internet, big data, artificial intelligence and other new-generation information technology to create a "cloud display", "cloud meeting", "cloud docking" and "cloud experience", and realize various functions including display and exchange, seminar and meeting, resource docking, public welfare game and experience. The exhibition has also strived to play a platform function in the display of charity achievements, matching of charity resources, dissemination of charity culture and collaboration and co-creation of charity ecology, so as to guide and gather charity forces to promote the development of poverty-free areas and comprehensive revitalization of villages.
Digital empowerment, to depict a new blueprint of charity-assisted rural revitalization
This session has set up three online exhibition areas, namely, the Exhibition Area for Charity and Rural Revitalization, the Exhibition Area for Beautiful Countryside Empowered by Public Welfare and the Exhibition Area for Charity Culture Popularization; has designed and developed web, H5 and small program versions of the charity exhibition cloud exhibition portal, built 3D virtual exhibition halls, 2D exhibitors' stations and other online display platforms, and focused on displaying new ideas, practices and achievements of charity forces in helping rural revitalization and promoting social development. By creating a 24-hour exciting cloud exhibition hall, it provides the public with an immersive cloud experience of visiting.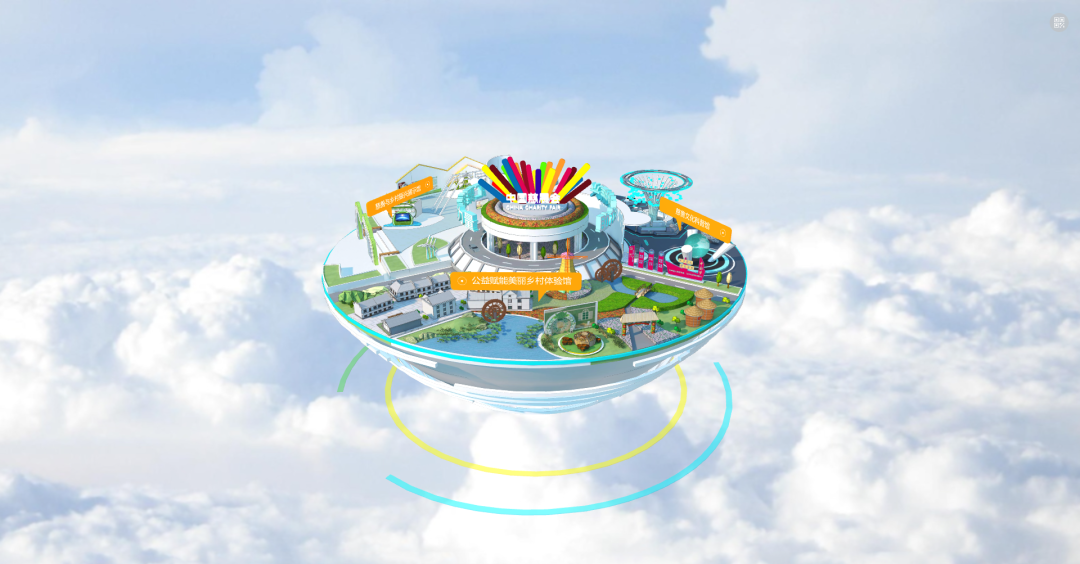 According to statistics, the exhibitors has covered 31 provinces, autonomous regions, municipalities directly under the Central Government, as well as Hong Kong, Macao and Taiwan, with a total of 2,255 institutions and projects and 2,237 products exhibited, and over 3.7 million people viewed and attended the exhibition online. By further integrating various charity resources such as charity projects, funds, products, professional talents, technology and information, and launching services such as project matching, Internet fundraising, and live farming with goods, a total of over 3.7 billion yuan of various charity resources were linked and docked.
Brainstorming and exploring new paths for charity development
This session concentrates on the frontier of industry wisdom and brings together the wisdom forces to promote the high-quality development of philanthropy. Through online live broadcast, cloud conference hall and other forms, it focuses on playing the role of the third distribution of philanthropy and helping rural revitalization, and has carried out one international philanthropy seminar, and eight sub-topic seminars and community roundtable activities, with more than 80 guests participating in the sharing and discussion. In addition, the live broadcast of the 9th CCF Launching Action and International Philanthropy Symposium was conducted on the platforms of Xinhua News Agency Live Cloud, Shenzhen Publishing Video Accounts. and Shenzhen Special Zone Newspaper Video Accounts, with over 60 million exposures, 1,303,400 hits and nearly 50,000 likes.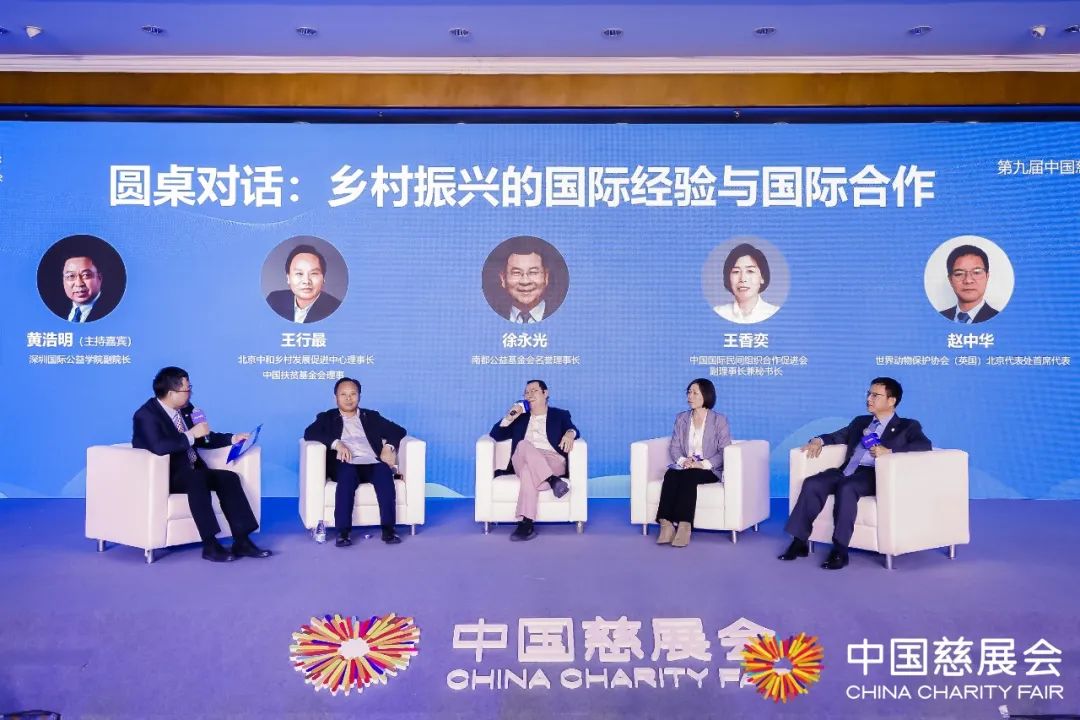 Especially in the International Philanthropy Symposium, more than 30 domestic and foreign experts gathered in the cloud to discuss rural revitalization. The guests closely discussed topics such as consolidating and expanding the achievements of poverty eradication, effective connection of rural revitalization, sustainable rural development and playing the role of the third distribution of charity. The symposium sorted out and refined the innovative solutions and feasible paths to promote the high-quality development of philanthropy, realizing the vision of seminars with both cutting-edge insights and practical guidelines, and contributing wisdom and power to continuously explore the effective mode for the philanthropic industry to participate in promoting the implementation of major national strategies.
Efficient linkage, to build a strong hub for industry empowerment and interoperability
The exhibition has built an intelligent matching and consultation system on the cloud, relying on big data analysis, instant messaging and other tools and technologies to provide intelligent recommendation and online negotiation services for both the supply and demand sides. During the exhibition, a total of nearly 10,000 times of institutional collections, online business card exchange and instant communication were realized, and online resource matching activities such as major project signing and matching, information release activities and roadshow promotion were carried out to provide diversified display and promotion and resource matching channels for various charitable entities, further enhancing the efficiency of resource matching and promoting the accurate matching of various charitable element resources, especially resources and projects in the field of rural revitalization. The event has further enhanced the efficiency of resource matching and promotes the accurate matching of various charitable resources, especially resources and projects in rural revitalization. At the same time, it has also strengthened the platform linkage and empowers to enhance the resource linkage ability of public welfare projects and help agricultural products in poverty-stricken areas.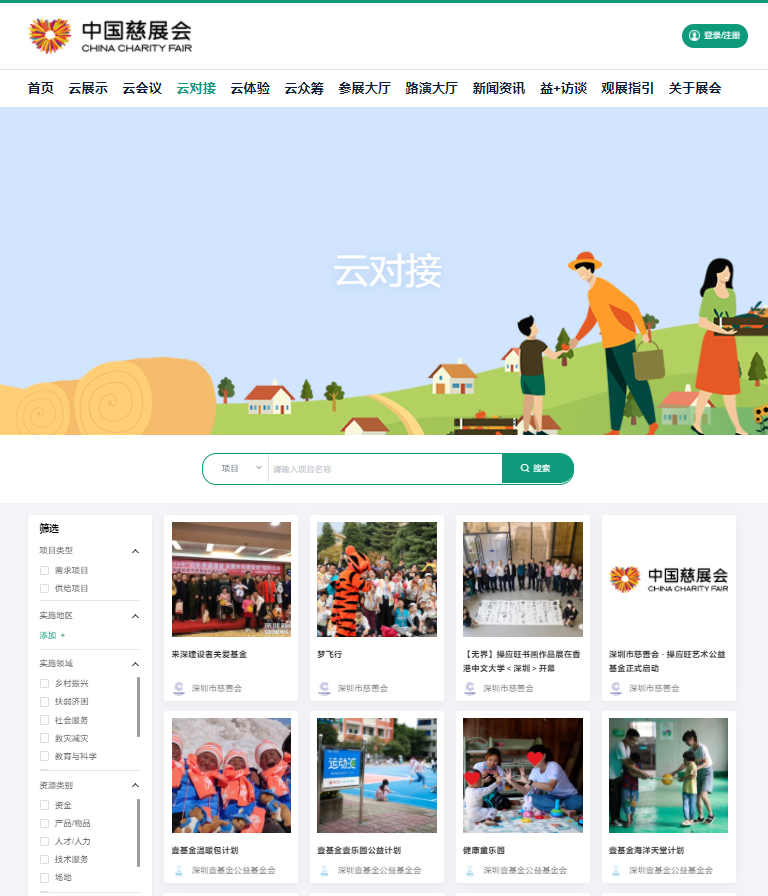 According to the preliminary statistics, this session has carried out 145 information releases and project roadshows through building intelligent matching and consultation systems on the cloud, linking with the Internet public fundraising platform and carrying out major resource matching activities, which have led to nearly 230 intended matchmaking cooperation projects such as project donations, consumer support product procurement and rural revitalization industry investment projects, with an intended matchmaking amount of more than 3.74 billion yuan, including 20 consumer-support product procurement and industry investment projects. According to incomplete statistics, 10.74 million people participated in fundraising activities on the theme of rural revitalization during the exhibition, with the total amount of fundraising reaching 74.17 million yuan.
Cloud empowerment, to create a new experience of diversified immersive exhibition participation
"When the accumulation of efforts is done, all could be invincible; when the wisdom of all is gathered, all could be achieved."
In order to enhance audience interaction and integrate public welfare into life, the "Cloud Experience" in this session, based on the theme of the exhibition and the concept of "public welfare for all and charity for all", fully integrates the Internet, artificial intelligence, new media and other technical means to innovatively launch a series of online public welfare experience activities with rich themes and various forms, such as "Cloud Touring Hundred Counties and Hundred Scenes" and "Gathering Wisdom to Deal with Puzzles". The exhibition will be more interactive and artistic to convey the concept of public welfare to the public.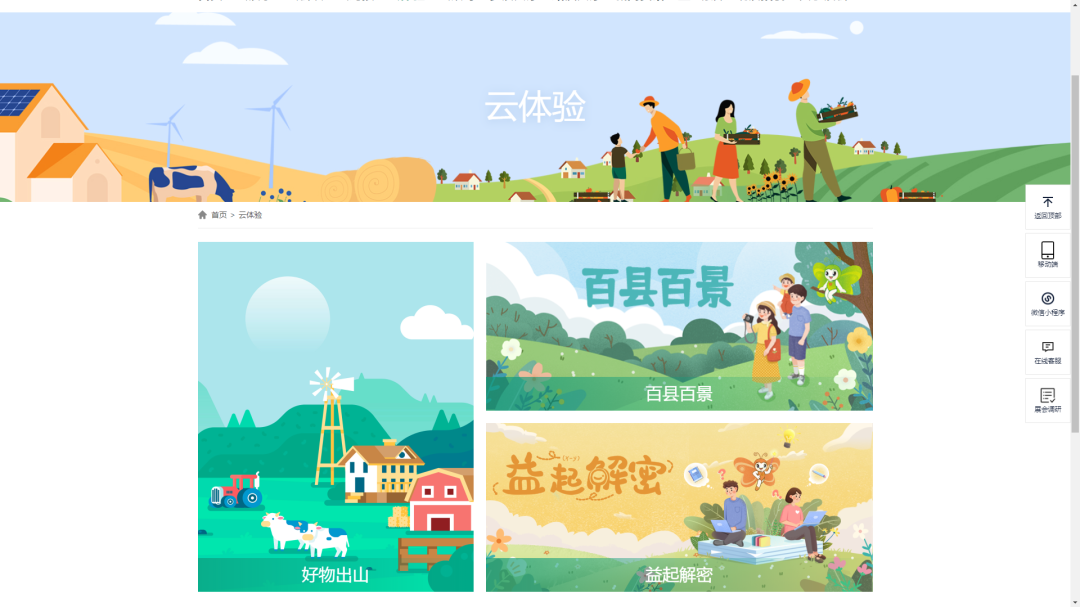 Before the exhibition, it launched the "I am the hometown recommendation officer" short video collection activity of 100 counties and 100 scenes, and finally screened 24 creative short videos for display during the exhibition, bringing the public a visual feast of the countryside on the cloud. During the exhibition, it has attracted more than 3 million people to participate in the online experience, through praising the "I am the hometown recommendation officer" short video, "I speak for my hometown" online relay, punching the cultural travel route of 100 counties and 100 scenic spots, experiencing the " Gathering Wisdom to Deal with Puzzles" mini-game, and activities such as buying agricultural products from the live broadcast of farmers on the cloud and charity blind bags.
All-network coverage, to encourage multi-channel and multi-directional voice of charity
In terms of publicity and promotion, this session, based on the integration of mainstream media, fully leverages the communication advantages of new media, makes efforts in the communication carrier, publishes articles in the form of communication, seeks breakthroughs in the communication channels, creates a "carpet" communication with full network coverage, relies on various advertising carriers online and offline to increase the public welfare voice, so that the exhibition is integrated into life and the public will fall in love with public welfare.

During the exhibition period, nearly hundreds of news media, including CCTV, CNN, CCTV, China Social News, People's Political Consultative Conference Network, "NF Plus" client, Shenzhen Special Zone Newspaper, "Dute News" client, Shenzhen Business News, Shenzhen Evening News, Daily Sunshine, Shenzhen TV and Yi Shenzhen, have made a series of reports, special reports and in-depth reports on the exhibition, and many reports related to the exhibition have been published in the Xuexi client. According to statistics, more than 6,750 reports were launched during the exhibition, with 95.46 million news hits and 300,000 discussions; a long series of short videos such as "Enjoying Around the Ninth CCF", "Kids Visiting Charity Exhibition, Inviting You to Experience the CCF", "CCF in the Eyes of Foreigners: Read the Temperature of China", and a series of exclusive short videos. A series of exclusive short videos were also planned to enhance audience participation and fun, and through the interactive H5 game of "I speak for my hometown", a strong relationship circle was formed to spread, taking hometown as a link to bring the fair closer to the public, which was shared by a phenomenal circle of friends. As of 12 a.m. on November 26th, the interactive H5 game "I speak for my hometown" has been forwarded more than 2 million. At the same time, CCF joined hands with nine famous celebrity artists, including LIU Mintao, NIE Yuan, BAI Lu and KAN Qingzi, to release exclusive CCF promotional videos and mobilize fans to interact with each other to promote the exhibition. The exhibition has been publicized and reported in all aspects and angles through friends' circle ads, screen ads of major apps, landmark building lighting, subway, bus platform, cab, airport, LED screen, community elevator ads, etc., building a publicity pattern of online and offline integration, internal and external publicity.
Led by brands, to create a diversified matrix to empower industry development
This year, CCF also organized a series of branded and professional supporting activities such as China Charity Project Competition, China Charity Image Festival and TIFP Charity New Forces Program.
Up to now, the China Charity Project Competition has set up a main track focusing on rural revitalization, selected 10 five-star projects, 10 four-star projects and 10 three-star projects, and opened "urban-rural parent-child public welfare", "elderly service", "cultural and creative non-traditional" and "cultural and cultural heritage". China Public Welfare Film Festival continued to adhere to the theme of "Seeing Love, Seeing Future", focusing on "Rural Revitalization", "Red Heritage" and "Red Crossing". The second season of the TIFP Charity New Forces Program invited public welfare projects with innovative practices in the fields of rural revitalization and sustainable development to share their experiences.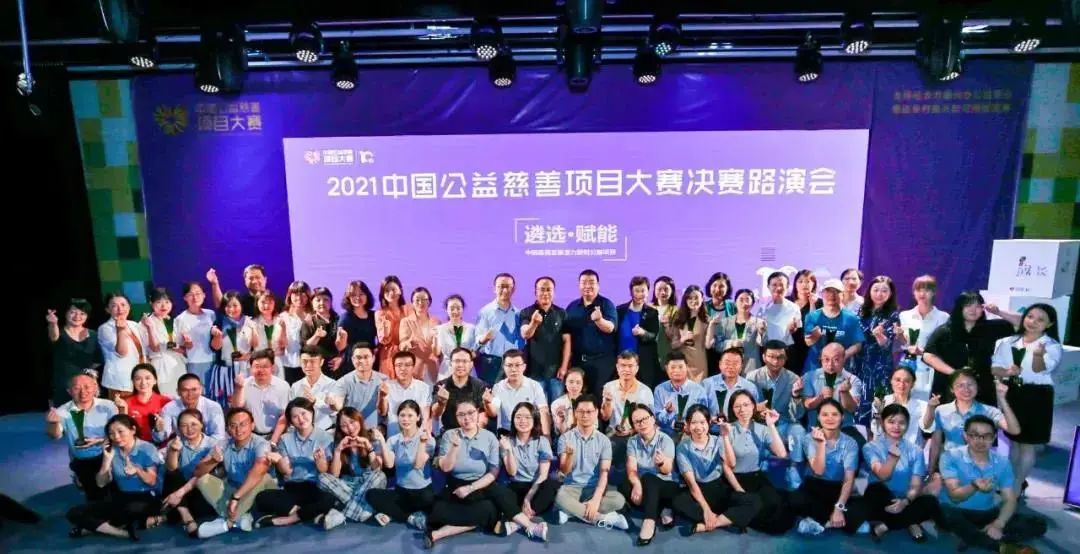 In the offline activities, the CCF also launched the "Integrate Knowledge and Actions for Wisdom: Rural Revitalization Study Program" for practitioners in the charity industry, especially those in charge of public welfare organizations in poverty-stricken areas. The program focused on the themes of "sustainable development", "community governance", "social innovation" and "rural revitalization". "Rural revitalization" and other themes, and has entered Shenzhen, Hangzhou, Chengdu, Chongqing, Kunming and other cities to carry out exchange and study, attracting a total of 217 organizations to participate.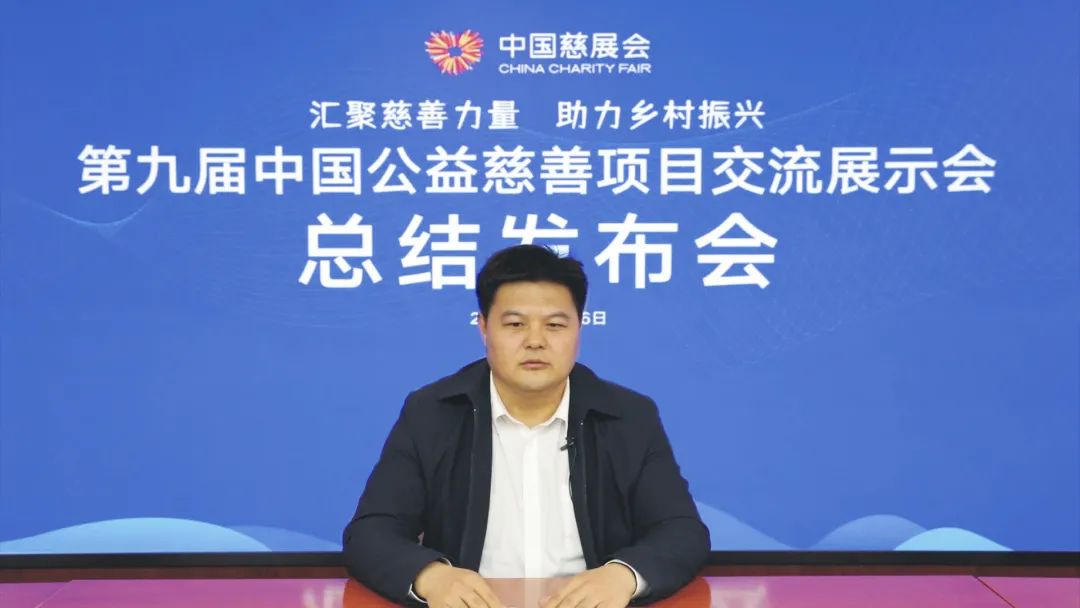 At the summary conference held on November 26th, ZANG Baorui, Deputy Director of the Office of the Organizing Committee of the CCF and Deputy Director of the Department of Charity Promotion and Social Work of the Ministry of Civil Affairs, pointed out in his concluding speech that this session has given full play to the role of leading social resources to help rural revitalization as a platform, promoted the transformation and upgrading of digital exhibition, and made new exploration and efforts to further empower the development of the industry. At present, the whole country is deeply studying and implementing the spirit of the Sixth Plenary Session of the 19th CPC Central Committee and striving to write a new chapter of building a modern socialist country. Standing at a new historical starting point, the exhibition shall make new contributions to the sustainable development of poverty-stricken areas and the comprehensive revitalization of the countryside by extensively gathering charitable power and giving fuller play to the industry's traction and driving role on the road to the new journey.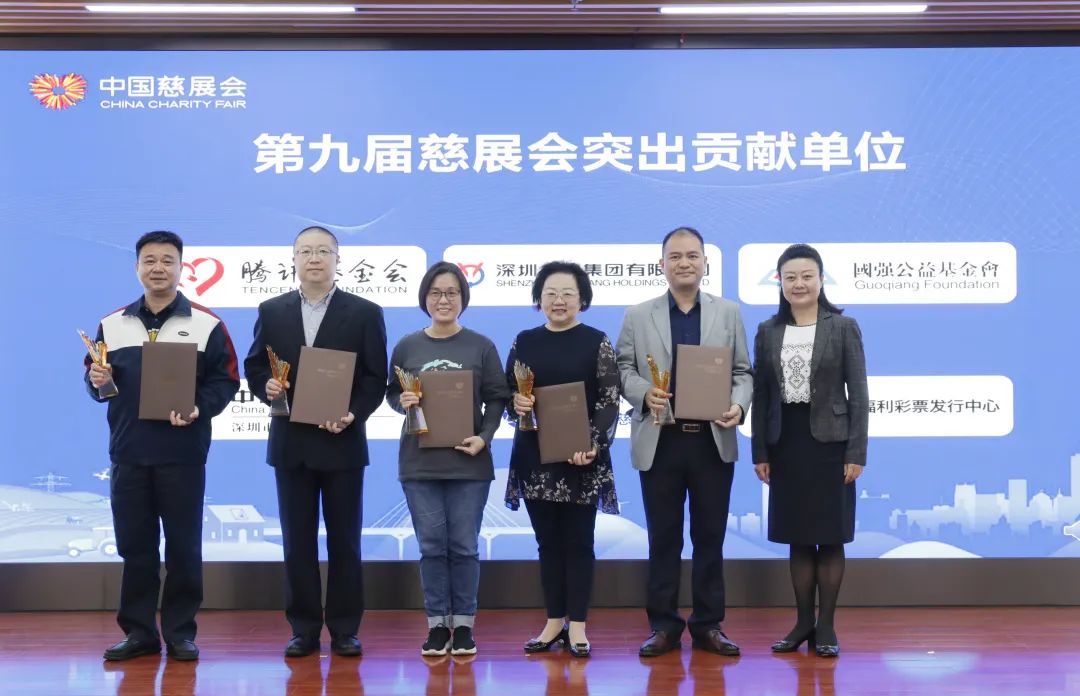 At the meeting, the list of outstanding contribution units, joint communication partners, public service advertising support units, excellent exhibitors, excellent cooperation organizations, public service partners, strategic partners of "charity-assisted rural revitalization joint action" and "assisting farmers on the cloud" was announced. XIONG Ying, Deputy Director of the Organizing Committee Office of the CCF and Director of the Shenzhen Civil Affairs Administration, presented a plaque to the outstanding contribution units of the 9th CCF.