In the golden autumn season when the "charity flower" blooms, on September 23, 2016 International Charity Summit, the highlight of the 5th China Charity Fair, was held in Shenzhen Convention & Exhibition Center. The summit, with the theme of "Sharing and Philanthropy", attracted the most influential leaders in the field of public charities from around the world to share their opinions and exchange ideas, thus playing a new role in the public welfare.
This is a high-level and influential international charity summit. Wang Qinmin, vice chairman of the CPPCC National Committee and Chairman of the All-China Federation of Industry and Commerce, and Ma Xingrui, minister of Civil Affairs, deputy secretary of the Guangdong Provincial Party Committee, and secretary of the Shenzhen Municipal Party Committee, attended the meeting and delivered speeches. Mayor of Shenzhen Xu Qin presided over the opening ceremony.
In his speech, Wang Qinmin said that the charity fair has experienced 4 years of accumulation and development, and has become a socialized, professional and international exhibition. As a member of the organizing committee of China Charity Fair, All-China Federation of Industry and Commerce has always been concerned about the development of public welfare and charity, and regards it as the starting point for promoting the healthy development of the non-public economy and the healthy growth of people in the non-public economy.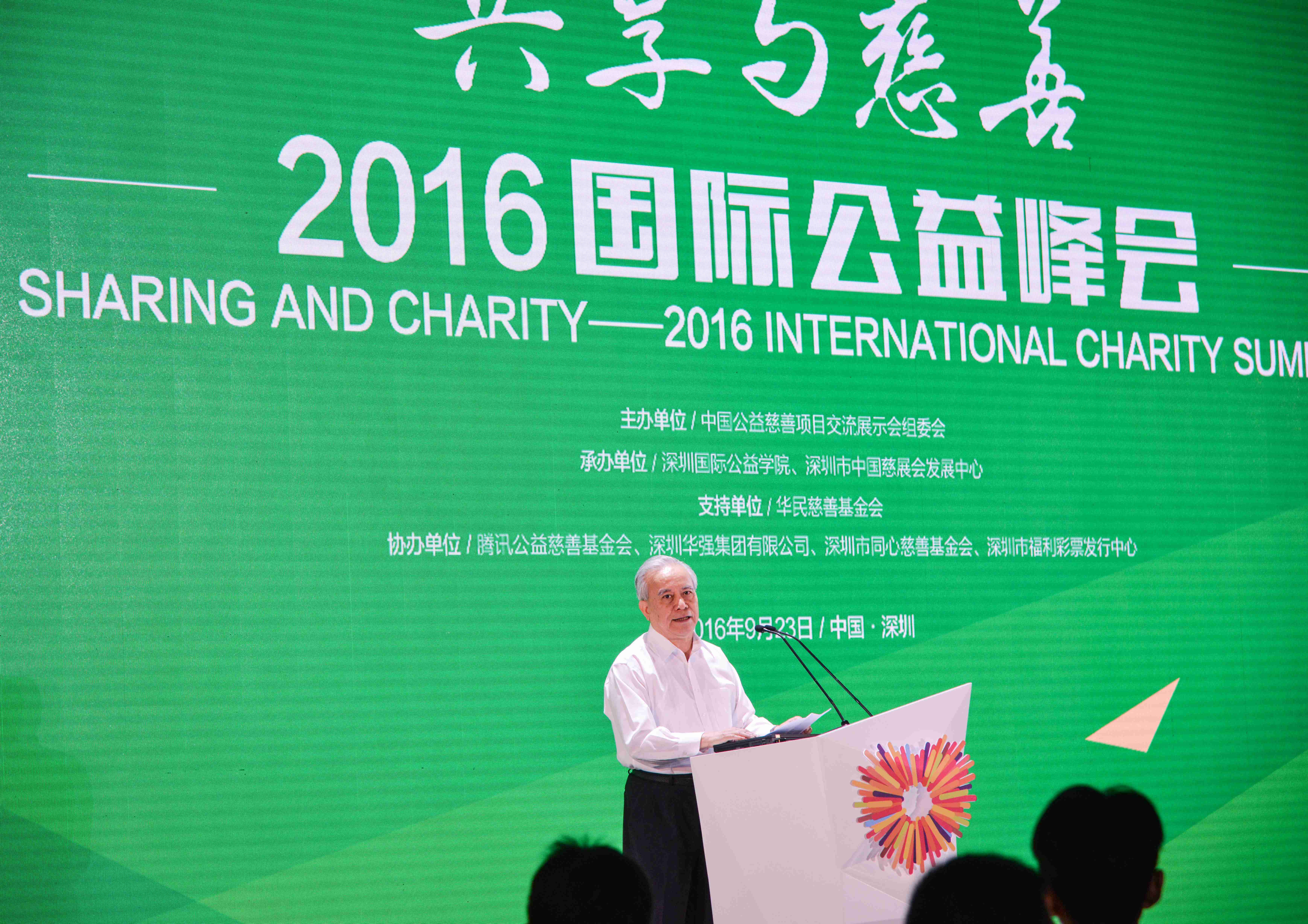 Relevant leaders of the Ministry of Civil Affairs said in their speeches that this year is a milestone year in the development of China's public charities. On September 1, the first basic and comprehensive law on philanthropy, the Charity Law, came into effect, ushering in a new era of law-based governance and good governance in China's the public charities. Under the new situation, to vigorously develop charity, we need to actively advocate the spirit and behavior of sharing, so that people in need can better share the fruits of reform and development.
Ma Xingrui reaffirmed the role of the charity fair in his speech. He said that since 2012, the four charity fairs have attracted nearly 5,000 exhibitors, nearly 640,000 participants, and 1,675 projects with a total amount of RMB19.13 billion, making it the most influential charity platform in China.
The 2016 International Charity Summit is a philanthropic event involving different fields and sectors. More than 700 representatives from public sectors, business circles, governments, academic institutions and news media from all over the world gathered in Shenzhen for fruitful dialogues and exchanges around the theme of "Sharing and Philanthropy".
It is worth noting that, after in-depth discussion and exchange of ideas, these philanthropic leaders from all over the world have made a comprehensive interpretation of the concepts of "cross-industry, innovation, future, and practice" proposed by the 2016 International Charity Summit .
Ma Weihua, chairman of the Board of Directors of Shenzhen Global Philanthropy Institute and chairman of One Foundation, believes that China's public charity is currently in a transitional stage, and many things must be broken through through innovation. In this process, there must be a large number of talents who can adapt to the development of this cause. To attract talents, it is not enough to have ideals and feelings, but also need incentive mechanisms, such as influential securities and charitable trusts.
Xu Yongguang, chairman of Narada Foundation, judged that in the future of China's public charity, we can clearly see that the integration of technology, market, and public welfare, and cross-boundary cooperation to achieve sharing, will become an irresistible trend. He said that there are still many things to be implemented in the Charity Law, the most important being the implementation of tax policy.
According to David Galipeau, global head of the United Nations Social Impact Fund, various practices of cross-boundary cooperation require a specific methodology, a common agenda, a measurement mechanism, some activities that can strengthen each other, communication, and a dedicated organizational structure to do big things.
It is gratifying that, on the basis of a broad consensus, the participants decided to take joint actions to comprehensively advance shared global development, including building responsible public charities; promoting cross-boundary cooperation; promoting environmental and social sustainable development; promoting investment in social innovation, etc.
It can be said that the 2016 International Charity Summit is committed to building a global public welfare community to share and help China's public charities to move forward. As a result, the flowers of charity in China will bloom into a better future.