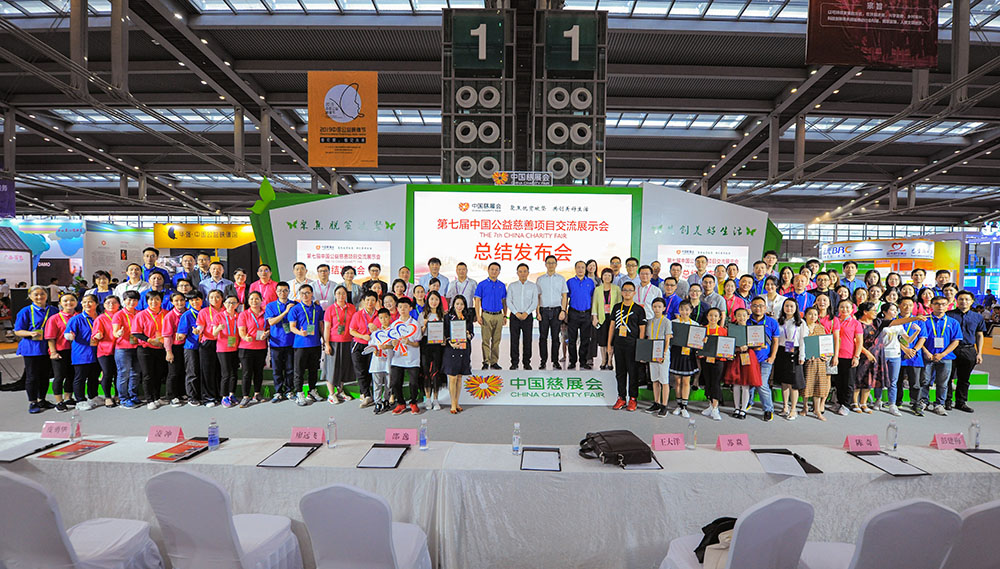 On September 22nd, the three-day CCF came to a successful end in Shenzhen. Closely adhered to the theme "Focus on Poverty Alleviation and Create a Better Life", it has focused on four sectors, including exhibition, seminar, resource sharing and supporting activities, and taken new steps in exhibition ideas, measures, actual effect, popularization and exhibition services, which greatly promoted effective sharing of philanthropy and poverty alleviation resources, and played a constructive role in promoting the innovative development of charity and boosting poverty alleviation.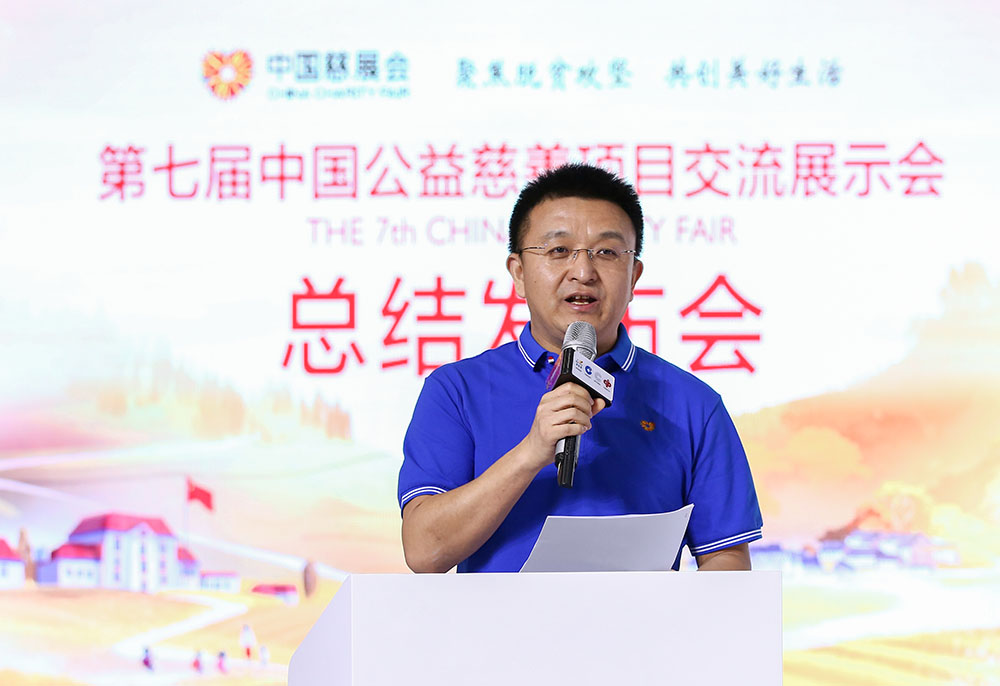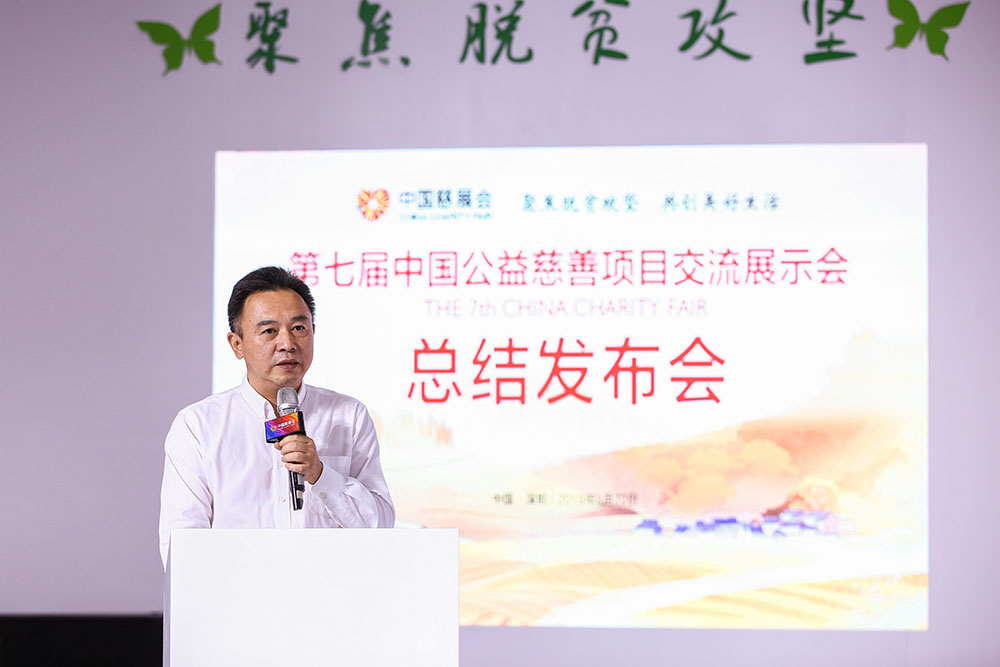 The 7th CCF mainly made the following five achievements with features:
I. Integrating charity forces, and telling good "Chinese Story" in poverty alleviation.
Centered around its theme, this session set up a Poverty Alleviation Pavilion, a Poverty Alleviation through Consumption Pavilion and a Public Welfare Experience Pavilion, which intensively displayed the featured resources poverty alleviation needs of extremely poverty-stricken areas, as well as typical cases, innovative modes and outstanding achievements of social organizations and caring enterprises participating in poverty alleviation, providing charity forces with precious experience and successful path and mode to participate in poverty alleviation, and fully utilizing the functions and unique values of CCF as a platform in poverty alleviation.
According to preliminary statistics, the 7th CCF attracted nearly 1,400 representatives from 31 provinces, autonomous regions, directly-controlled municipalities, and Hong Kong, Macao and Taiwan, as well as 791 organization, 896 projects and 917 products of poverty alleviation through consumption for exhibition in front of nearly 190,000 visitors.
II. Insisting on target-oriented principle, and integrating "Chinese Strength" in poverty alleviation.
The 7th CCF catered to the poverty alleviation needs of extremely poverty-stricken areas such as the "three regions and three prefectures", explored an "online + offline" service mode for resource sharing, and put forth efforts to integrate the "Chinese Strength" in poverty alleviation.
In terms of online resource sharing, it cooperated with some Internet fundraising platforms appointed by Ministry of Civil Affairs, such as Tencent Charity, to provide resource sharing services for 28 charitable poverty alleviation projects in Liangshan Yi Autonomous Prefecture in Sichuan, Linxia Hui Autonomous Prefecture in Gansu, Tibetan areas in four provinces and Luoxiaoshan areas. Meanwhile, it also optimized and improved the resource sharing platform, enabling it to offer routine resource sharing services for participating projects and poverty alleviation projects.
As for offline resource sharing, the 7th CCF organized over 100 activities in the forms of roadshows, poverty alleviation product recommendation, information publication and public welfare auction to link poverty alleviation projects and products with relevant charity resources. According to preliminary statistics, it has matched 133 poverty alleviation projects worth over 5.8 billion yuan, and purchase orders of various products of poverty alleviation through consumption worth over 1.6 billion yuan, with a total docking amount of more than 7.4 billion yuan. Before the end, Shenzhen Xinhui Catering Service and Management Co., Ltd purchased over 6,000 tons of products from multiple booths. State Council Poverty Alleviation Office also appointed Shenzhen as the first city to host the national poverty alleviation through consumption activity, which will facilitate the docking between Shenzhen and featured agricultural products from targeted regions, and further enrich food supply for Guangdong-Hong Kong-Macao Greater Bay Area.
III. Belting out the ictus of the times, and integrating the "Chinese Wisdom" in poverty alleviation.
The 7th CCF centered closely on the poverty alleviation topic of the era, and organized a high-end seminar on international public welfare via staged arrangement of meetings. Focusing around the practices and explorations in social organization poverty alleviation, enterprise poverty alleviation, Internet poverty alleviation, media poverty alleviation and collaborated poverty alleviation, it organized 9 subtopic seminars and 8 interactive salon activities attracting over 200 domestic and foreign experts and scholars in poverty reduction and alleviation to share the Chinese practices in poverty alleviation and experiences in global poverty reduction. In addition, it sounded the ictus of the era to integrate charitable resources and social forces to participate in poverty alleviation, and offered Chinese Wisdom and Chinese Solution for the world's poverty alleviation.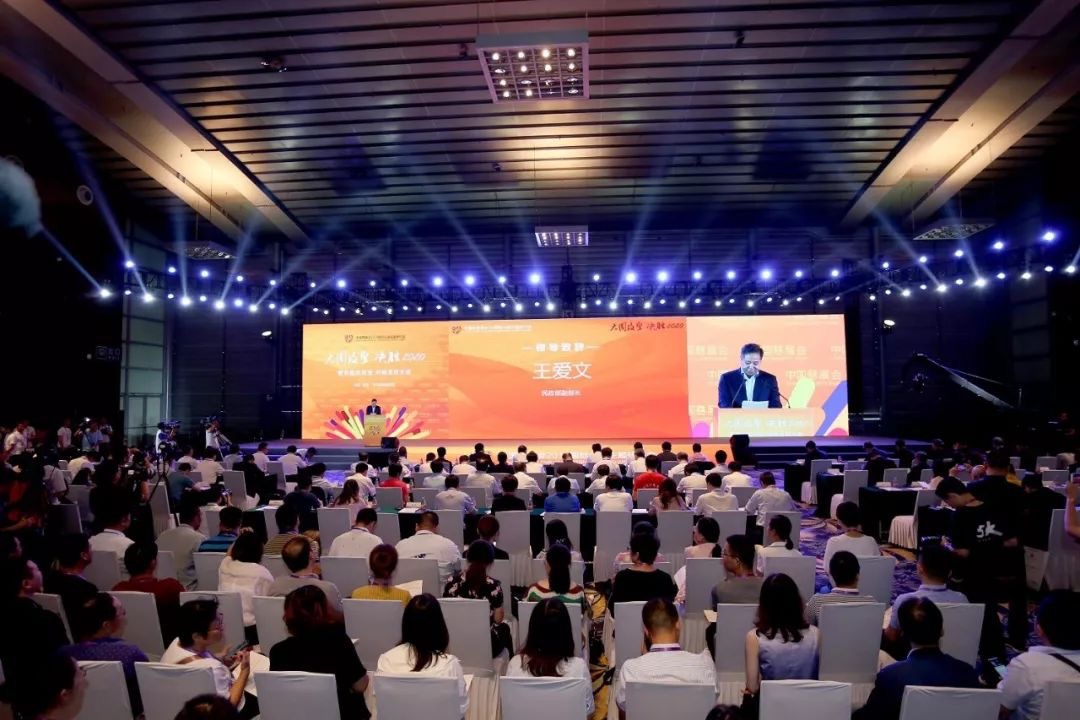 During the Fair, China Charity Alliance published 2018 Report of Charitable Contributions in China. It also witnessed the inauguration of Shenzhen Association for Promotion of Foundation Development, China's first promotion association of the foundation industry, and China Public Welfare Project Contest "Social Innovation Board".

IV. Tamping the brand activities, and performing the "Chinese Movement" in poverty alleviation together.
In terms of brand project activities, the 7th CCF inherited the legacy and hosted China Public Welfare Project Contest, China International Philanthropy Movie Festival, etc. Out of 1,028 application projects, China Public Welfare Project Contest selected 30 projects for gold, silver and bronze awards, and 2 projects for the poverty alleviation New Force Award. Meanwhile, China International Philanthropy Movie Festival also received 489 public welfare movies, and selected 43 excellent ones. Unlike previous Fairs, the 7th CCF also organized an exhibition of selected paintings in targeted poverty alleviation.
At the same time, it organized colorful interactive and experience activities before and during the Fair, including "Beautiful Life Experience Hall", "Little Public Welfare Guide", "Capture Poverty Alleviation Elfin" and "Itinerant Exhibition of Public Welfare Organizations' Mascots". Additionally, with the help of information technologies, it also developed mini program and electronic guide map, which further improved the vitality and experience feeling of the exhibitions and made it more down-to-earth, popular and sparkling.
V. Integrating media resources, and increasing the influence and communication of CCF.
In terms of publicity and promotion, the 7th CCF integrates the communication advantages of both mainstream media and new media, combines the characteristics of audiences, highlights the core of the exhibition, focuses on social poverty alleviation, takes high-end dialogue, in-depth interviews, typical reports and microfilm exhibition as carriers, creates online and offline three-dimensional communication paths, comprehensively improves the accuracy, innovation and influence of the its communication content, and presents typical cases of poverty alleviation in an all-round and panoramic manner, so as to elevate the vividness and infection of the contents. According to statistics, 200 journalists from nearly 100 central, provincial and municipal media, including People's Daily, Xinhua News Agency, Central Radio and Television Station, Guangming Daily, Economic Daily, China News Service, gov.cn, People.cn, CCTV, the Paper.cn, PhoenixNet, Nanfang Media Group, Guangdong Radio and Television Station, Shenzhen Press Group and Shenzhen Media Group reported the 7th CCF and promoted the grand exhibition through the Xuexi.cn platform. With nearly 1,000 special press releases published and 30 live broadcast high-end interviews arranged, the media spread news of the Fair in an efficient and timely manner and received over 1 million views, thus creating a good atmosphere of "assisting the poor is virtuous and honorable".
On behalf of all organizers, the Ministry of Civil Affairs made a summary speech. At the summary meeting, awards and certificates were issued to "Social Innovation Board" of the 7th China Public Welfare Project Contest, prominent contribution units, outstanding cooperation organizations, caring partners, outstanding exhibitors, outstanding volunteers and star public welfare guides, and a certificate of appreciation was also given to the Exhibition Design Committee of the 7th CCF.
As the next year is the final year of our poverty alleviation journey, CCF will continue to center on the theme "Focus on Poverty Alleviation and Create a Better Life", and win the battle against poverty in 2020 through precise location and unremitting efforts!