Yesterday, the 10th CCF opened in Shenzhen. It is reported that the 10th CCF, lasting for 3 days, has attracted more than 5800 institutions and projects from across the country to participate, with a record high number of institutions and projects. On the opening day, the intended docking funds has exceeded 7.9 billion yuan.
The number of institutions and projects reached a record high.
In addition to the "exhibition" and "meeting", the 10th CCF will continue to leverage its role in resource docking, hold roadshow activities and charity information conferences around the industry's cutting-edge trends and hot spots, provide more in-depth and accurate resource docking services for participating projects, and guide and drive more charity resources to support the disadvantaged groups.
China Communications Construction Group Co., LTD. (hereinafter referred to as "CCCC Group") has participated in the CCF for the third time, and in addition to continuing to carry out "CCCC Dream Aid" series of responsibility actions globally, it has also implemented more than 700 assistance projects in the fields of transportation, industry, education, employment, medical care, ecology, culture and other fields. This time, CCCC Group once again donated over 6.5 billion yuan to assist projects in Nujiang Lisu Autonomous Prefecture, Yunnan Province, Yingjisha County, Kashgar Prefecture, Xinjiang, and other areas, including industrial revitalization investment projects.
According to the CCF organizing committee , in 2012, the first CCF opened at the Shenzhen Convention and Exhibition Center, attracting 26 provinces, autonomous regions, municipalities directly under the central government, and more than 500 public welfare charity organizations and enterprises from across the country to participate. With ten sessions of cultivation, exploration and journey, the 10th CCF has attracted more than 5800 institutions, projects, and products from across the country, with a record high number of participating institutions and projects.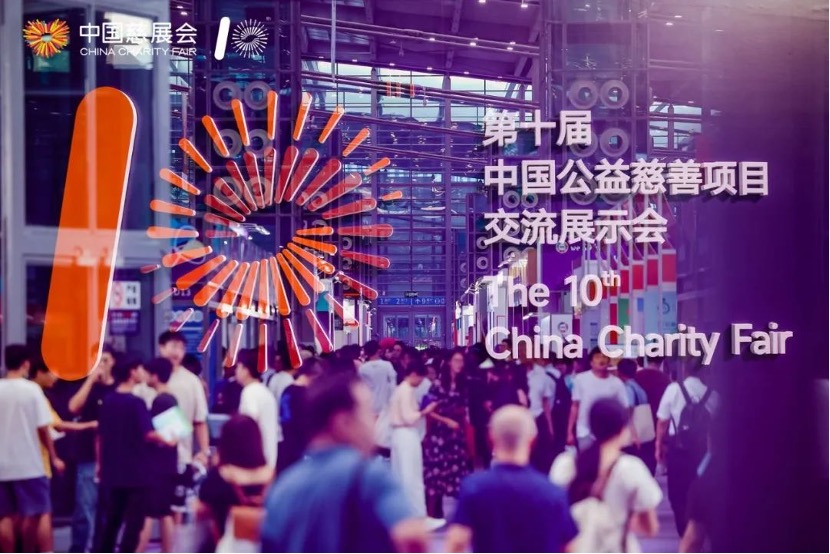 From over 500 participants to over 5800 this year, along the way, the CCF has become a platform for exchanging and showcasing China's public welfare and charitable projects, and an important window for China to show the world its achievements in the development of charity, and jointly gather good forces for the comprehensive construction of a modern socialist country.
There are still opportunities to connect high-quality projects during the exhibition.
At the kick-off ceremony of the 10th CCF and the signing and docking activity of major resource projects, eight major project signing representatives came on stage to sign.
In addition to CCCC Group, multiple institutions including Ningxia Baofeng Group ·Yanbao Charity Foundation, Shenzhen Agricultural Power, Shenzhen Benlai Life Net Technology Co., Ltd., Shenzhen LONGFOR Foundation, China Merchants Foundation, Ansteel Group Co., Ltd., and C&S Paper Co., Ltd. participated in the signing and docking activities of major resource projects, supported investment in related projects in the fields of "one old and one small", rural revitalization, education assistance, and assistance to disadvantaged groups, and focused on assisting Weining in Guizhou, Qichun in Hubei, Yecheng in Xinjiang, Shache in Xinjiang, and Qingyuan District in Jiangxi through industrial revitalization investment, consumer assistance procurement and other means, with a total of over 7.9 billion yuan of intended docking funds.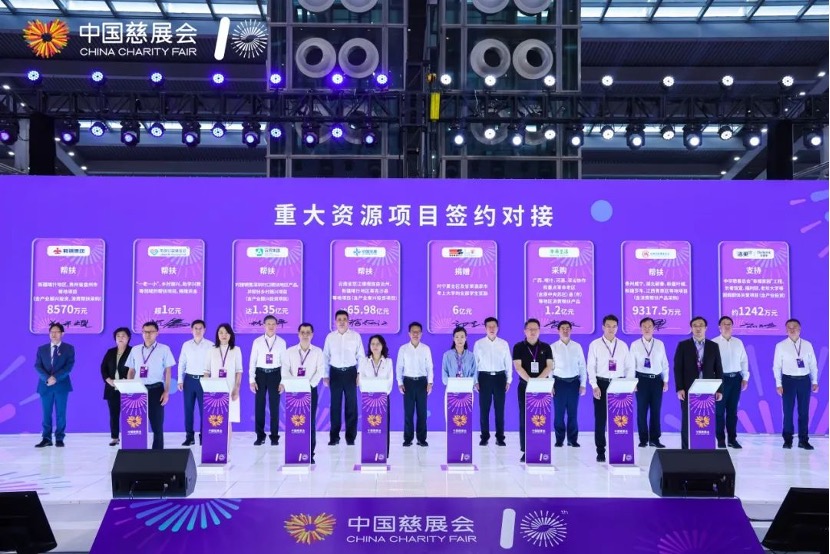 "Our project is excellent. Do we still have the opportunity to promote it to everyone at the CCF? "" We sincerely and financially hope to find excellent public welfare projects at the 10th CCF. "It is reported that during the exhibition, excellent charity projects with resource needs, as well as social organizations and enterprises with high-quality resources, could apply for resource docking project content during the exhibition registration, and obtain resource exchange, display opportunities for negotiation and docking. After the project review is approved, it will be displayed on the resource docking platform during the exhibition period, and priority docking services will be provided at the exhibition site. It is reported that the nine sessions has covered 31 provinces, autonomous regions, municipalities directly under the central government and Hong Kong, Macao and Taiwan, attracting 10,663 institutions to participate and facilitating 2620 project docking, with a docking amount of over 70.1 billion yuan. Also, more than 1600 public welfare and charitable activities were held, along with nearly 1.3 million people attending the exhibition.